what breed is your dog?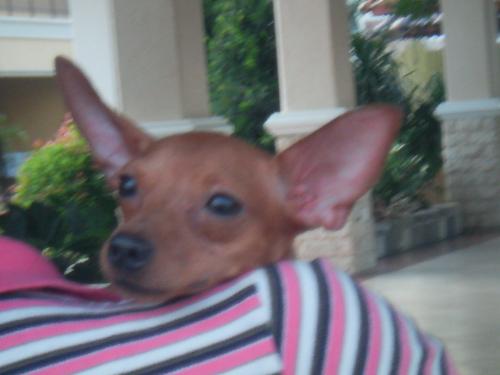 Philippines
9 responses


• United States
5 Apr 08
I have a red Chow, his name is Cujo, he is about 4 years old.

• United States
4 Apr 08
I have a maltese named Toby and a lhasa-poo named Brandi. They are both small dogs and I've had them since I was 17yrs old. I love them very much. I've had the lhasa poo longest and she fits me more, personality wise we are just alike lol. I got Toby a year later when I was 18yrs old and thats when I was with my ex and he seems to fit more my ex's personality. But we couldn't split them up and they are just the best of friends. I love my doggies :)


• United States
4 Apr 08
I have a yorki poo. That means she is part yorki and part poodle.

• Canada
4 Apr 08
I have a Labbe ( Labrador / Beagle ) mix, but he's mostly a labrodor in temperament and appearance. He's 2.5 year old now and a joy , he's 99% obediant , he loves everybody and everyb ody loves, so I am so proud of him. I do not have any children, so by the way he behaves and listens, adds energy to the house , he my pride and joy. I was going to name him Domino because he's black with some white patches, but I named him Einstein, he either would carry his name or be a contradiction , but he's not a genius, but above average intelligence. He throws the ball and catches it himself, I get to watch and praise him without any effort on my part, but he much prefers if I throw it, I can usually out distance him :-) Not sure if others have dogs that are obediant without very little training, but I'm very lucky , I give him a treat and if I change my mind ( before he swallows it ) I say give back and he gives me back the treat. Ok I know some of you will say, its mean on my part, but I usually give it back to him. He loves to be obediant, I praise him for it and he enjoys doing it. Best friend I ever had.

• United States
4 Apr 08
We have a collie. She looks just like her name sake, Lassie. No we did not name her, she came with it. We got her from Collie Rescue. She has non-contagious mange. Her previous owners let all her hair fall out, she was full of sores, and then they took her to be put to sleep. The vet saw that even with all the pain the dog wanted to play so called Collie Rescue. All she needed was some good treatment and antibiotics to be fine. We got her and we have to watch for flare ups but other then that she's a great dog.

• San Marcos, Texas
4 Apr 08
Hi literally1 What kind of dog is that? a mini pincher? I need to figure these things out more lol. I have a shitshu and he is 6 years and full of dreadlocks right now from playing in the weeds allday.Going to have to get him groomed now that its getting Hot. He acts still like a pup. Hope you and yours have a fun evening!