Are you looking for a girl with meat on her bones?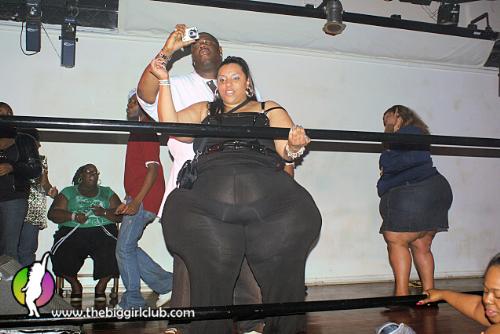 United States
April 4, 2008 11:26am CST
I know a lot of men who like to look at eye candy. But they love to have some meat on that bone too. I always try to help a fellow friend out. So I came across a site for the meat lovers out there. I am a woman who does not mind my man having his ribs showing over a man with lots to love. So have a great time looking if this is your cup of tea. http://thebiggirlclub.com/
5 responses

• United States
4 Apr 08
I will see some slim girl and tell my husband I want to look like her. And he always says, Why I would break you in two? He perfers me to have meat on my bones. I'm not fat but I'm not skinny either. I perfer a guy to have some meat on his bones but I don't want anyone that would crush me. Seeing ribs is too skinny. But everyone has their own perference.

• United States
4 Apr 08
I hear that.. My man toy told me not to go down a inch. I like to see what he thinks since I am down a few pounds. But he says my butt is the money.

• United States
4 Apr 08
Yeah I think my husband is afraid I will lose my chest...LOL...I wouldn't mind losing alittle there also.

• United States
4 Apr 08
Ok, now you are out of your mind!

That's some serious meat right there.!

• United States
4 Apr 08
Are you jealous of the meaty bones?

• Canada
17 Jun 08
I know that most men like the girls to be skinny. I know some men that say the skinnier the better. But being a woman I don;t agree with this. The size of a person doesn't mean they are a good or bad person. But most men like them skinny and I have found that a lot of skinny woman are very arrogant and concieted. Not all skinny woman, but a lot of them are that way. My brother is 50 years old and only goes out with young skinny girls. I don't mean like 16 year olds but I say 30 year olds. He once lived with a girl for 10 years, and she gained some weight and he broke up with her because of it. He said her ankles were fat and he just got turned off by them and so he had to break up with her. Talk about conceited, my brother.

• Canada
6 Apr 08
I used to love skinny men my x husband was from barbados he was 5 11 and 115 pounds, and I was always big, my partner now is not as big as me but he is big,

• United States
4 Apr 08
I'm a girl with meet on her bones too, so it's nice to know that there's a site for men that are looking for that. It's nice to know that men are looking for my type and not the eye-candy. I just can't figure out why they drool over people and you can see their ribcage for Pete's sake. Sorry, got a little bent out of shape. I have real issues how skinny women are portryaed as the ideal women in this society, and I guess this topic got me going. Sorry guys.