Stroke Prevention

United States
April 4, 2008 5:43pm CST
I read somewhere here that....you could not have a stroke if you used ginger?? What foods have been proven to really prevent strokes?
3 responses

• United States
5 Apr 08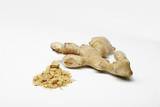 Ginger is a natural blood thinner that MAY prevent strokes. You can't state that you will never have a stroke if you use ginger. Other things to try include ginko biloba:it increases blood flow to the brain. Garlic and turmeric to protect against clotting. Cayenne to increase circulation. Green tea for it's free radicals. Grape seed extract to strenghtne blood vessels.

• Canada
4 Apr 08
I've never heard about this but I find it very interesting. There are getting to be more and more people looking toward natural cures. Me for one.

• Canada
6 Apr 08
no foods have been proven to prevent stroke, studies show that certain foods help reduce the number of cases of stroke but no foods have been proven to prevent it. Having said that all healthy foods, no transfats etc will help reduce the risk of having a stroke, fatty foods cause the fat build up in the arteries that are responsible for strokes and heart attacks, but there are other reasons as well, genetic tendencies etc that can still cause a stroke or heart attack.