My daughter has a friend who is still mourning her mother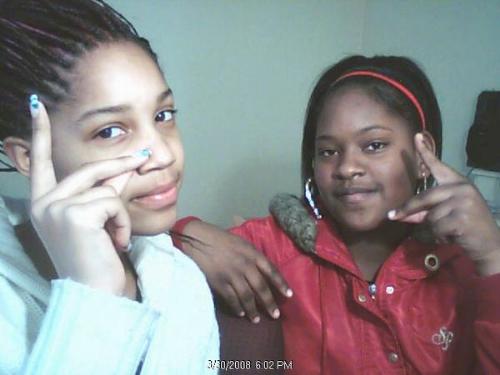 United States
April 5, 2008 7:27pm CST
I am sure you can understand my concern. I have had so much of hell going on the past few months. I am so glad that is all over with. My daughter is back in her body again. I gave her $40.00 to go out to the mall. That was nice of me

This is my issue if you can call it one. My daughter's friend has lost her mother. She calls me and talks to me about boys,school,life in general. I feel so bad for the poor girl. I curled her hair today to go to the mall. I told her to come it out herself as she would like it. She said she wanted me to do it. Because her mom use to do that for her. I miss my mom... I felt like crying and it took all I had to not ball out. She will be here tomorrow for me to weave her hair. Long story short how do you deal with a child who lost a parent? I lost my father but I was so young I remember nothing. This girls still hears her mother coughing in the house.
8 responses

• United States
6 Apr 08
Its going to take time for her to heal from losing her mother.How you deal with child who has lost their parent,I think that you should continue to be there for her.She needs someone that actually cares around because during the mourning process she may begin to feel that she has noone to talk to or that noone cares about her.So i think you should continue to be there for her and let her know that someone cares about her.Also let her know if she needs someone to talk to you are always there for her.

• United States
6 Apr 08
I am always there to talk to her. She calls me sometimes 3/4 times a day. I had to tell her once it was to late at night. But I am there for her.

• Turkmenistan
6 Apr 08
I lost my mother when I was 10 years old. I am 38 years old now and still working through it. When you lose your mother as a child, it seems to take away everything in your world. A mother is lie no one else on the earth. She gives love so sweetly and freely, because you are hers. It is almost impossible to find someone who will tolerate and love you the way your mom did. If I were you, I would try to give her what she longs for from her mother. She is very fragile right now and you being there for her could make all the difference in the world. She will never forget you. She still needs her mother's love, but it is very easy to over look the things that she needs because she is not yours. The fact that she feels comfortable in reaching out to you, says a lot about you. Children are excellent B.S. detectors. I would just do the best that I could for her.

• United States
6 Apr 08
I am not sure I can do this without hurting my daughter. She feels as if I a always on the girls side.

• Turkmenistan
8 Apr 08
Is there any way to explain to your daughter about this girl losing her mother. What do you mean that she thinks that you are always on the girls side? Who is raising the girl now that her mother is gone?

• Garden Grove, California
6 Apr 08
That poor girl tolose her mom. I would have been devastated toifit had been me. Iwas so close to my mom. Evidently she is looking on you as a mom substitue. I think you are dealing with it just right from what I see. she trusts you and she is a friend of your daughters. I miss my mom too and its been a very long time as I am now myself in my early eighties.I have tears in my eyes as I am typing this as I feel for both you and the girl. good luck and take care.

• United States
6 Apr 08
I feel bad for he as well. I just don't know how to deal with lose like that. It's never happened to be.

• United States
6 Apr 08
I think you should keep doing what you are doing. You are making an impact in her life at a time when she needs a mom and doesn't have one which is really sad. I don't know how I could deal with a child who has lost a parent in any other way, than what you are doing...being there for her. Your a nice person!

• India
6 Apr 08
Its just been days I guess.. It usually takes time to get used to such situations... for that part of time, you could give her a motherly affection.. but don't let your daughter get a feeling that you are ignoring her for her friend.. might have an adverse affect on their friendship.. Its usually hard for young people who are just stepping into the world to lose someone they thought would be with them always, to guide them and help them in time of need.. with time.. they tend to get accustomed to it and get better.. Console her as well..

• United States
6 Apr 08
Your right my daughter is not handling it well. I had to speak to her last night about this. I will have to spend more time with my daughter talking about things.

• United States
6 Apr 08
oh that is so sweet of you to do her hair and to talk with her. I think that we all as moms have that in us. we just want to keep all kids safe. Well most of us moms want to do that, I know there are not so great moms out there, but the majority of us want to do everything we can to keep children safe and feel good. I think that if I lost my mom as a young girl it would have been very difficult, even though we did not get along back then...We get along great now, for sure it would have been difficult and I do not think it is an easy thing for anyone to deal with losing a very close family member, child, mother, father....it is hard no matter how you slice it.

• United States
6 Apr 08
I have to agree with you it's hard. I don't remember my father. I still cry because I miss out on what I never had.

• United States
7 Apr 08
All you can do is be there for her. Hopefully she is kind of leaning towards you to help her deal with things. Don't turn her away and abandon her, as she may fall into a very deep depression.

• Canada
7 Apr 08
I would be her surrogate mother for as long as she wanted me to be.