What's Your Favorite Holiday?

United States
April 6, 2008 11:31am CST
I Love Christmas! I Love That Warm, Cozy Feeling You Get When Your Thinking About Buying Things For Your Family And The Look They'll Have On Thier Face Christmas Morning. I Love Halloween Too, Decorating And Having Parties For The Holiday's Is My Thing! What's Your Favorite Holiday And Which Do You Decorate Most For?
4 responses

• United States
6 Apr 08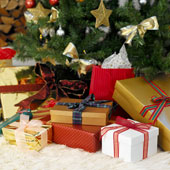 Christmas has to be the one I love the most. I don't do the decorating like I did before. I did not even put a tree up last year. I am not sure If I will do one this year either. I like the shopping and giving to my friends and family. I tried two years to have a grab bag on mylot for Christmas. I will try again this year.

• United States
6 Apr 08
I think my fav is Halloween. I love dressing up, and the Nightmare Before Christmas [Tim Burton] atmosphere. xD But Christmas and Easter come in a close second.

• United States
6 Apr 08
I love Christmas there is so much that goes along with it. It is not just about the presents. I love being with my family and having a nice dinner together, seeing all the beaufitul Chrismtas lights twinkling, going to kids concerts, seeing the kids faces when they see santa claus who could not like it? I would say I decorate the most for Christmas.

• Philippines
6 Apr 08
i love christmas lol because aside from summer, i also have a long vacation during christmas break XD