myLot Discussion Guidelines...


United States
5 responses

• United States
25 Nov 06
I think a troll is referring to someone who "trolls" the boards, looking for an argument. A troll is one who likes to create hostility. A troublemaker, in other words. Flame wars, are two completely opposite views, "firing" ridicule back and forth. The views see black and white, no shades of gray. It's a "heated" debate. Well, at least that's how I view the terms. HTH

• United States
1 Nov 06
I am not sure what they mean by trolls, but I am assuming flame wars is people bickering back and forth in a post. Sometimes people post comments to intentionally anger someone and cause them to post an angry comment in reply. Just my opinion, I am no expert!



• United States
25 Nov 06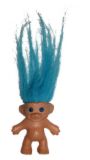 I think by troll they are meaning discussions that go round and round or ramble on and on. There are many definitions to troll. So this is the only thing I could figure out about it.