A Guinness World Record Attempt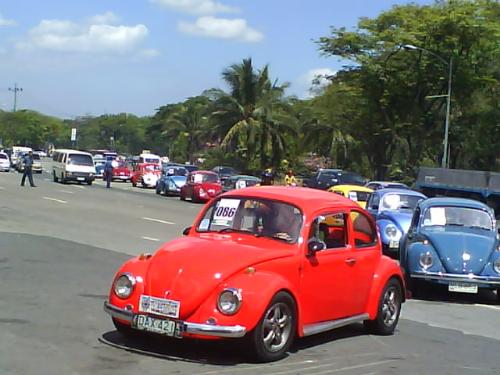 Philippines
April 7, 2008 7:59am CST
Just yesterday, I attended a Volkswagen gathering here in Quezon City, Philippines. It's main goal is to put up the biggest number of Volkswagen cars, whatever model it is and their attempt to have a Guinness World Title Holder. There are more than 700 vintage cars who registered and participated in the parade. It is a very cool moment to see those different unique looks of these vintage cars to gather in one event. I have seen different colors, styles and even celebrities driving their very own vintage cars. I remember back then in my childhood that some people mock the VW's for their turtle look but me? I don't agree with them. They just can't see the beauty of this unique looking vintage cars. They just proved me that the outside look is better than the inner and I have learned my lesson well on that. BEAUTY IS DEFINITELY ON THE EYE OF THE BEHOLDER. ;) I am so happy that I become a part of it even if it only exist in my dreams to have an awesome beetle but maybe, I'll have one in the future.:)
4 responses

• Australia
13 Apr 08
My husband would have been fascinated with this. He loves checking out cars & I know he has mentioned Volkswagon a few times. To be honest, I have no true interest in cars. My daughter has just turned 15 & she is becoming very interested in cars.

• Philippines
13 Apr 08
Car fanatics won't be a fully fanatic of cars if they don't admire the Volkswagen series. It's really cool and classic. hmm, maybe your daughter got it from her father. She's young to be interested to cars, I guess it will not be so long when she will ask for one hehe :)

• Philippines
13 Apr 08
oh by the way, I have an album full of VW pictures from the event. it's here: http://mskzalameda.multiply.com/photos/album/118 I made it appear on public so mylot peeps can view it. :)

• Philippines
7 Apr 08
Hi mskz good to see you here again. I am happy that you've been a part of that historic event. I wish I was there, it rekindle memmoir of "Macho" - our bug back then. People just can't keep to them selves their amazement about this car, for all we know its "the greatest car ever built", and they can't simply put this one rest.

• Philippines
11 Apr 08
yes! it's good to be back here in mylot community. uhm yeah, if only I told you about the event a little earlier hehe.. but maybe next year we will have one again so don't worry. :)

• Philippines
17 Apr 08
I remember, is this what is had seen on The Beat at QTV channel 11. I remember this car from one movie on Disney. The car number is 69. I am so happy that you had been a part of that Guiness Thing. I hope i can do that too.

• United States
7 Apr 08
hope you guys get it:) i agree,i like the older bugs.i think they had more character.where i used to live in arizona,there were quite a few that had been converted to baja bugs,with a bigger engine exposed in back.they used to race with them.

• Philippines
7 Apr 08
GEE.. thanks scarlet_woman. I think it can come true since it's the first around the world. I just hope that the next time I join such event is that I have my own VW car hehe :)