Oh my!! Thats a lot of phone books!!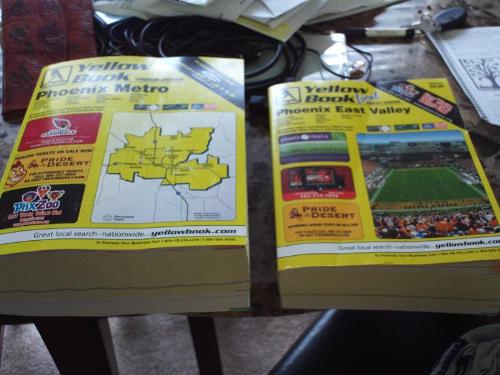 United States
April 7, 2008 10:17am CST
I am at work and we just recieved our phone books. They sent SEVEN (7) sets which makes 21 books! We only need 1 and even at that we use the internet for most things. What I don't get is why waste that much paper that you can't even recycle! I'm not a save the environment kinda person all the time, but things like this just agervates me, because it is such an obvouse waste. I did call the company and they will in the future only send us 1 set, but we can throw away the ones we already received! What do you think? How many phone books have you received at one time? Is there any GOOD use for a un-needed phone book? Thanks in advance for reading and responding!
2 responses

• United States
7 Apr 08
That's wierd that you can't recycle them. We get a lot of phone books at my house, and I have no idea why. So, we just throw them in our recycle can. Sometimes the yellow pages will actually do a recycle drive here. What about giving them to a school/art school. I remember that we made our own paper in a class I had by recycling old paper we didn't need. We actually used newspaper and any other paper we wanted. We ripped them into 1" strips, soaked them, and blended them to make it into paper pulp. Then we dyed it an made our own paper and paper sculptures.

• United States
7 Apr 08
For some reason here you they won't take it if it is the in recycling bin. Last time I put them in there the wonderful garbage man just left them on the ground. I looked it up on our local recycling page and it says no phone books. any way - I didn't even think about making paper with it. My daughter would really enjoy that. Thanks I'll post a picture when we are done.

• United States
10 Apr 08
Thanks for marking me as a best response! Let me know if you need more detailed instructions on the paper making.

• United States
7 Apr 08
I would advise you to recycle them. I am not a real big pusher on saving the environment either but that is a little extreme. That is a lot of paper that could be recycled. Most people probably dont really even use a phone book anymore. I always use www.anywho.com if I need to look up a number and I know there are numerous other sites that can be used for the same purpose.

• United States
7 Apr 08
As I said you can't recycle them. I don't know why - must be the dyes they use in the ink. I know I don't use phone books I normally use yellowpages.com, but thats just me. I know my boss uses the phone book itself. Probably because he really dosen't know how to use a computer lol. Thanks for the resoponse.