Loved ones in the military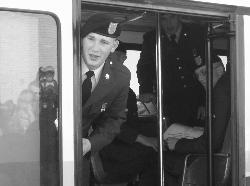 United States
October 31, 2006 4:52pm CST
My son is in basic training and I was wondering how many mylot members have loved ones in the service.
4 responses

• United States
1 Nov 06
My godson is in Iraq right now. He has been there for a very long time. He was supposed to come home last month but decided to go career so now I wont see him for a couple more years. I hate this stuff, its a stupid war that should have been over on 9-11. All we had to do was strife the whole damn country and end it all.

• United States
1 Nov 06
Did you know when the planes hit the twin towers, the people of Iraq were in their streets clapping and chearing??? I have no respect for those people at all!


• United States
1 Nov 06
My husband is in the Air Force, but he is in a career that doesn't send him over seas so we are lucky. God bless your son for his service. I remember when my husband went into the service. Basic training is very difficult time, but he will be okay and learn a lot about himself in that time.

• United States
31 Oct 06

I have a nephew who is in the National Gaurd, and recently returned from Iraq after being there for a year. Here he and I are upon his return.