DOES ANYONE FISH?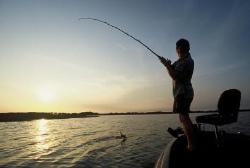 United States
October 31, 2006 5:11pm CST
ANY KIND OF FISHING LIKE DEEP SEA, FLY, ANYTHING... AND WHAT KIND OF FISH DO U FISH FOR?I LOVE FISHING ITS SO RELAXING.. I WILL FISH IN ANY LAKE I CAN FIND.. I CAN GO DEEP SEA BECAUSE I GET SEA SICK..
7 responses


• United States
2 Nov 06
I KNOW.. ITS SO FUN.. WELL WHEN U DO CATCH SOMETHING.. LOL

• United States
6 Nov 06
IT WOULD BE A MIRCLE IF I COULD CATCH SOMETHING BUT WHEN I DO IT'S AWESOME!!!!

• India
2 Nov 06
sometimes i do fish....on the holidays

• United States
2 Nov 06
Last time I went to fishing was when I was pregnant with my daughter. I had fun but my niece start to fussing about being hot, being hungry, she was acting up, I wanted to sink her in the pond. My father in law just bought a big boat so we are planning to go to deep sea fishing! I cant wait.

• United States
2 Nov 06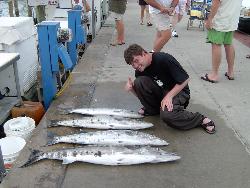 I love fishing, I'm a bass fisherman mostly, but I also try to get salmon fishing at least once a year. Had the chance to fish in the gulf of mexico once, check out the baracuda we caught!!

• United States
31 Oct 06
I used to fish. I found it really relaxing, too. I wanted to take my little one fishing, even to one of those trout places where all you have to do is put your hook in the water, but we didn't get to go this summer. I'm looking forward to it this Spring, though!

• United States
31 Oct 06
u should go this spring.. ur kid will love it..

• United States
2 Nov 06
when i was kid i use to go fishing with my aunt and uncle but i dont remember what it was like kinda weird