How much do you like to take pictures? How long have you been doing it?


Philippines
April 9, 2008 12:27am CST
My interest in taking pictures just started when I joined the editorial staff of the Pylon, the official yearbook of our university. I love taking pictures so much that its one way of relieving the stress I feel. Have you experienced this also? Taking pictures is not only a hobby for me, now, it has become my life! If you can find time visiting my Photo Blog, I would appreciate it so much. The link is http://i-photograph.blogspot.com. Comments, suggestions and reactions are very highly welcome! Thank you so much

4 responses

• United States
5 May 08
I checked out your blog. I like your work! :) you are good. I also love photography and it is my life as well. you can check out my photo blog by going to my profile if you'd like.. I need to start reading things on so i can better myself but i just hate reading so much. Everything i know i've just some how learned one way or another on my own.

• United States
5 May 08
I very much enjoy taking pictures. I am not a professional, but I have always enjoyed messing around with photography. This past Christmas, I finally got a real D-SLR camera that I can take amazing pictures with. Prior to that, it was only digital cameras and although some of those took some really good pictures, it's not the same as the camera I have now with the different lenses and filters. Now, I take pictures constantly and of every little thing I can possibly take pictures of. I need to get a storage hard drive to hold all the pictures I've been taking! I like taking wild-life pictures, pictures of the kids, sunsets, trees, flowers, etc. You name it, I'll at least take one or two pictures of it... more if it looks good!

• United States
3 May 08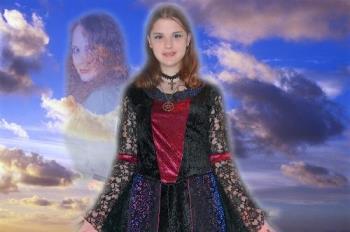 I have always loved taking photos. Photography is a passion for me. I am more into digital photography and love to spice a photo up. I print out my own pictures too, I don't like taking them to get developed. Actually, since I started using digital, I won't go back to film. I've attatched a photo I have done of me and my daughter.

• United States
5 May 08
Hey, I bet you use digital photography and other new technologies. It is a great idea to take photos of certain places and stuff is part of bring back memories from long ago. Yeah, it is always great that you take photos of events within your university. And transfer them wherever needed. You can log onto www.samsung.com, the only site I can think of. Because this is the brand my digital camera is.