do you want to live on a modern place??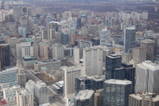 Philippines
April 11, 2008 11:44am CST
No.. Even I am one of the richest guy in the world I wouldn't live in a place like this. . A very noisy place . Dirty place . Many People quarreling . POLLUTION I would like to live in place w/ beautiful surroundings. A peaceful place and very quite place. Having my own farm and then hiking on mountains.
2 responses

• India
11 Apr 08
I would like to live in such a place with a back up place to live in as well. What I mean is I will probably toggle between two places, one, fast, noisy, and the other one a bit quite,peaceful and close to mother nature. It will be perfect providing almost everything that one requires.

• Philippines
11 Apr 08
You Pick Both Of The Choices hehe. Just Pick Only one If You do.

• United States
11 Apr 08
I couldn't live in a place like that. I'm not even sure that I could bear to commute to a large city for a career. I like some of the convenience of technology, but I've always had my heart set on historical locations. That's probably why I prefer vacationing to places like the Historic District in Savannah rather than the beaches in Florida or other "party" locations. I have a special place in my heart for old buildings from a completely different time.

• Philippines
11 Apr 08
Wow Good For You.. I'm living in that Place in Manila and We're Just Hanging out w/ my family and friends in some beautiful places here in the Philippines.