Couple accused of trademark counterfeiting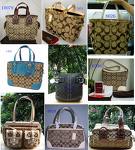 United States
April 11, 2008 5:29pm CST
Why do they continue to do it. Grant it the business is booming and the money is good. But why not stop while your ahead... My goodness I would have gone crazy with all that stuff. I use to sell these on ioffer.com The biggest replica auctions. I got scared when 2 woman were charged big time. They had both had small kids. http://www.mylot.com/o/newdiscussion.aspx?q=13_37408 Luxury handbags, clothing, shoes and other knockoff merchandise bearing the counterfeit marks were seized.Suffolk County prosecutors say police on Thursday seized luxury handbags, clothing, shoes and other knockoff merchandise bearing the counterfeit marks of Burberry, Gucci, Coach, Tiffany, Polo, Prada and other companies. They say the illegal distribution racket operated from a warehouse in Farmingdale. They say a search of the Roslyn home of the couple who operated the warehouse netted $150,000 in cash and financial records. The husband and wife are scheduled for arraignment Friday on charges of trademark counterfeiting and criminal simulation.
3 responses

• United States
11 Apr 08
i dont see why people think its okay to sell counterfeit stuff. coach has worked very hard and makes a quality product, why would it be okay for someone to copy their items and attempt to sell them as real? its the same thing as identity theft in my mind and i hate it! i am a fan of coach products and have two in my closet, i know that they are guaranteed for life and i love that about them. to see a fake annoys me to no end.


• United States
12 Apr 08
how are they killing people? you dont have to have a coach bag, you want one, if you want one, you save your pennies like i did and buy one. its like driving a mercedes, yes its more expensive but you get what you pay for. if you can't afford a mercedes, do you buy a honda and stick mercedes tags on it? that makes no sense... coach has everyright to shut people down for stealing their logo... would you want someone to take your hard earned work and everything you've worked for and copy it and then sell it for 1/5th of the price? i'm not rich by any means, i'm on here to earn money just like everyone else... i found a coach bag on ebay for $50.00, took it to coach's store and paid $20 for it to be repaired... they couldn't repair it so they sent me a brand new one... so for the price i could have paid a counterfitter, i got a brand new authentic coach bag... just takes a lil creativity

• Canada
13 Apr 08
well you just can't make a bag and call it a guicci it is against the law, but I think you can make a bag that looks similar to guicci but must have something different about it and call it let's say guecci or something like that, I think your all to do that

• United States
12 Apr 08
your right theyve shouldve stop while they were out in the clear i cant beleive that they had all that merchindise, i know peopl who buy things in the street and ive always told them not to spend thier money on those things their knock offs, i work alittl to hard for my salary to buy something thats fake. there is a better way to make money, well if they get convicted they'll spend 15 years in jail thats enough time to think about what they did....