The Sky Is Crying

April 12, 2008 10:57am CST
And many of us did also when we heard the news about the death of Stevie Ray. I still listen to his music all the time. He ranks near the top of my all time favorite guitarists, and is my favorite blues artist. The first song of his I heard was the remake of Voodoo Child (Slight Return); I'd never heard the Hendrix version and thought it was a "new" song. Went out, bought the Could'nt Stand the Weather LP (remember vinyl?) and have been hooked ever since. What are some of your favorite Stevie Ray tracks?
5 responses

• United States
25 Apr 08
Stevie Ray Vaughan was one of the best blues guitarists of our time.Some of my favorite tunes from him are Life By The Drop,Mary Had A Little Lamb,and Rude Mood.Unless I have missed something I have everything Stevie ever did.I listen to him at least weekly.


• United States
6 Sep 08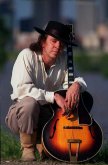 OMG, now I know you've got GREAT taste in music!!!!!! Stevie Ray never read a note of music & NEVER played the same song, the same way, twice. He was self taught. He was founded by David Bowie & The Rolling Stones. Have you listened to Kenny Wayne Shepherd??? He now has Double Trouble for his backup. He has not made it yet, but he IS working on becoming a Stevie Ray. I'm thinking that the record producers will ruin him before he makes it.

• United States
15 Nov 08
After listening to Kenny Wayne Sheperd, I cannot listen to SRV without thinking of him!!!

• United States
2 Jun 08
Stevie was one of the greatest guitarists that's ever been. He accomplished amazing feats with his guitar, playing like his mentors, the masters of the modern blues. He could play lead, rhythm and bass on his songs, which amazed me. My favorites are Texas Flood, Tin Pan Alley, Thangs That You Used To Do, Voodoo Chile & Dirty Pool. I love to watch him play in his videos and specials. Six Strangs Down...