My 4 year old daughter baked a cake using ICE!!!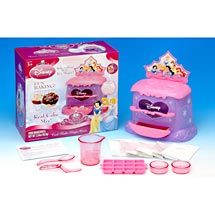 United States
April 13, 2008 10:15am CST
Wow what a concept my 4 year old daughter just baked a cake by using ice cubes. She got a Disney Princess oven and all you do is put ice cubes in the bottom tray and then mix your cake and put it in the cake mixes are only about the size of one bite but it does actually cook the cake by ice no need to worry about them gettin burned! Have you ever cooked anything by just using ice? I love this little oven I am going to get her more cake mixes for her birthday for it.
10 responses

•
13 Apr 08
Did it work I have only ever heard bad stories about these and that the mixture simply doesnt go anything like a cake and mostly stays soggy.

• United States
13 Apr 08
The chocolate mixes work really good the vanilla ones I can't quit get them done. The chocolate ones aren't soggy but the vanilla ones seem like they taste like raw cake mix.


• United States
23 Apr 08
Interesting concept indeed. And what a way to teach someone to enjoy baking at such a young age as well. I remember my sister having an Easy bake over when she was young, and all the Fun we used to have from it. But ice to make a Cake? That is a new concept for sure. Does it still taste as good?



• United States
14 Apr 08
I have never heard of this maybe it is because i do not have any kids but if it is a popular toy i am sure i will be getting a call from my niece soon lol :). I think it sound safer for the child than an easy bake oven as i can't even remember how many times i burnt my fingers and hands on my easy bake oven :) have a wonderful day

• United States
13 Apr 08
Thats cool. Much safer than those easy bake overs they had when I was little.

• United States
13 Apr 08
I had never heard of this before. It sounds very interesting. I wonder how it works? I can't picture being able to cook something with ice. My niece is too old for this now but when she was younger it would have been something I would definitely have checked out. It's ok if only the chocolate works, chocolate is the best anyways


• United States
13 Apr 08
Never heard of that sounds neat. My boys are too old for that but sounds really neat.