Grandfathers Accidentally Switched At Hospital!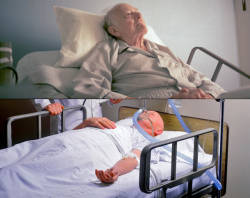 United States
April 13, 2008 10:27am CST
I've heard of babies being switched at hospitals but Grandfathers? I'm having a hard time believing this could happen... In a disturbing case of hospital negligence, two elderly grandfathers were accidentally switched at the Cedar-Sinai Medical Center in Los Angeles and sent home with the wrong families, sources reported Monday. Authorities have launched an investigation to determine how 89-year-old World War II veteran Samuel Kaminski was released to Walter Crowley's family, while Crowley, 86, was sent to Kaminski's home. Cedar-Sinai administrators said the mistake was discovered when Crowley was brought to the hospital for a routine checkup and doctors realized he had shrunk five inches since his last appointment, nearly six months prior. Is this one for believe it or not or what? Doesn't this make you worry about you or your families next trip to the hospital?http://www.theonion.com/content/news/grandfathers_accidentally_switched
7 responses

• United States
13 Apr 08
i would think the family members who picked these men up at the hopsital were pretty lame if they didnt recognize the person getting into their vehicle werent their family member. ..;shakes head; yet another example of the assanine inaneness of some people. no.. i wouldnt worry about it. i think id recognize if a person wasnt my grandfather right off the bat.

• United States
13 Apr 08
I agree with you! What were those dumb families doing while these poor men were getting into their vehicles? Obviously not paying attention to them. It's sad the way the older generation is treated isn't it?

• Philippines
13 Apr 08
It's laughable for a family not to be able to recognize their own blood and flesh. It is understandable for babies because they don't have many defining features yet. I think the family is just irresponsible and is not really concerned about the grandfather. Poor grandpa. I'd rather be in a home-for-the-aged than be treated like this - not being recognized by my own family.

• United States
13 Apr 08
I think it's more sad than laughable. How stupid can a family be not to recognize their own father? Very scary!

•
13 Apr 08
I don't understand this at all. According to the report: "Our studies have found that one out of every 1,000 grandfathers, and nearly four out of every 1,000 grandmothers, are accidentally switched at some point during their hospital care. Sadly, many of these misplaced seniors go on to live with the wrong family for the rest of their natural born lives." How is it possible that families don't see it's a different person. I can understand that the old person may be unable to communicate but they must look different to the real grandparent. Surely you would know if it was not your own grandparent?

•
13 Apr 08
No what would concern me is that the family themselves did not notice? I know every inch of my grandfathers face and would know if he had been swapped!


•
14 Apr 08
After following the link and viewing the site, I'm of the opinion that this is not a true story. This "newspaper" has the feel of the "Sun" or the "Weekly World News". While it could be true, it is highly unlikely. Though I must say that it does make for a good laugh in the morning.


• Singapore
14 Apr 08
This mix-up really sounds ridiculous. I can understand that in the case of new-born babies, there is a chance the hospital can get babies mixed up because both the hospital and parents may not be able to actually recognize the correct baby, and the parents probably depend on the hospital staff to label the baby correctly to prevent any mix-up. But in the case of grandfathers, it beats me how a mix-up can take place at all. Surely, the grandfather is not discharging on his own, but rather his family members would be there to escort him home. How then can the family members not recognize their own grandfather and know straightaway that the person the hospital is discharging is someone else not related to them? No matter how I see it, I cannot fathom how such a thing could have happened.