Getting that Sun-Kissed look for Summer: Do You Tan?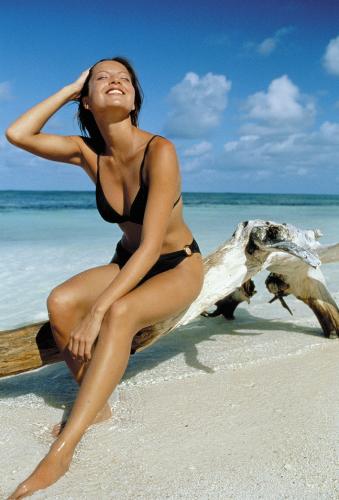 Canada
April 14, 2008 10:31am CST
Do you like to get a tan in the summer? Here is Canada a summer tan is considered a sign of physical fitness and health, which is kind of wierd when you think about all the hype about UV Rays being bad now, but it is. People who have a tan are also ususally considered to be more attractive. So, with summer comign do you plan to get a tan? If you do how do you plan to go about doing it? Will you lay out at the beach or in your backyard and get a natural tan from the sun? If you do this will you wear a weak sunscreen? Will you go to the tanning beds so you can tan nude and avoid tan lines? Or, will you use a self-tanner at home to create the look of a tan without the UV exposure?I used to use self-tanner, but I hate the way it makes you look like a lepor when it starts to come off, because it never fades evenly, it always seems to come off in patches. I have been thinking about laying out in the trampoline in my backyard to get a bit of a tan, but I'm kind of worried about the damage that could do to my skin. I could go to the tanning beds in a few weeks when I start working and have some money, but there I always foudn I got a wierd looking tan on my butt, from where it presses against the glass. I don't know what to do, so please, tell me what you plan to do to get that sun-kissed look this year.
3 responses

• Philippines
15 Apr 08
I think the safest way to get that healthy sun kissed look is to use a glow enhancing lotion.. the one that enhances your natural glow such as Jergens which has pigments that gives out a glow for your skin..this is safer than going under the sun and getting damaged skin..

• United States
17 Apr 08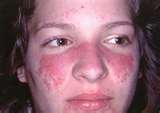 I have a disease called Lupus so I can't get in the sun. If I did get into the sun, my skin would break out with these red blotches such as the one in the picture. I have to wear sunscreen all year long and a higher number in the summer time. I even have to sunscreen my clothes, more so in the summer than the winter. The good side of not getting a tan is I'll look younger when I'm older. I already do!

• Hong Kong
15 Apr 08
I don't tan because I already have tan skin. If you are really white, I don't recommend you go for tanning because you would absorb more UV rays than the others and you wouldn't want to speed up the aging process just because of a summer sun tan look. But you really want to do so, the best tanning lotion would be Tropical Hawaiian SPF4, I heard that you would get a beautiful tan from that.

• Canada
15 Apr 08
Actually I was thinking about getting that brand of lotion this year. For high SPF sunscreen I ususally use Fruit of the Earth Baby SPF 45 sunscreen, but I need something weaker for tanning, and I LOVE the smell of Hawaian Tropics products.