Passions is Ending?!?!?!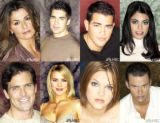 United States
April 15, 2008 2:29pm CST
Yesterday I was reading one of my moms soap opera magazine and I see an article that stated "Passions News". So I read it since it was a show I use to watch and I wanted to know what was going on on the show. In the article it stated that Passions wrapped production on March 28. Yep, thats right, Passions is ending. It stated that Passions will continue to air on DirecTV through the summer. I just knew this show wouldn't last. On April 5 and 6 they had a giant garage sale, selling all of the props and things. I was sad to see the show leave NBC because I don't have DirecTV. I liked the show but it was a crazy show.
3 responses

• United States
6 Jun 08
I started watching this show when I was on maternity leave in 1998. It was goofy then but I loved it. Lately the show has been absolutely idiotic. Vincent is a woman/man who slept with his brother and then his father and had his father's baby?!!?!? THAT'S SICK! I read they are shutting down again. No wonder it's getting the axe, it's horrible.


• United States
16 Apr 08
I am salty too that Passions is ending. I want to find out an exact date, because there are several things going on that don't seem to be wrapping up anytime soon. I am addicted to this soap, and I don't even know where to begin finding a fix to substitute it. I think they really killed themselves when they moved to DirecTV. They rearranged the schedule from five days a week to three, with a Thursday recap of all the shows from that week. Plus, like you said, not everyone has DirecTV, I was just one of the lucky ones that had it before. I hope that the fans cause an uproar, and they bring it back, but I know this is highly unlikely, I can't do it by myself lol.