Are You A Pack Rat Or A Collector?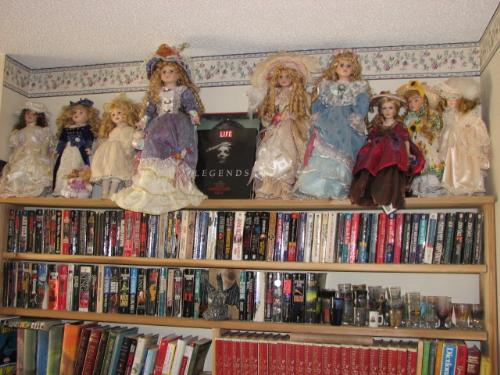 United States
April 15, 2008 4:32pm CST
Some will call you a pack rat others a collector.....so what do you save? I save alot of things cause well I am a pack rat but my favorite collection is my dolls. Im not collecting for value as I took them out of there boxes. I have included a photo of shelf of my dolls but I have them all over my house. So what is it you collect? Do you save for value or fun?
10 responses

• United States
15 Apr 08
I am a little of both. I do collect bells though. I have them all displayed in a cabinet. I have close to 200 of them from brass to fine china and not any two are the same. Some are old and some are newer, been bought from garage sales, flea markets, stores and so many given to me as gifts. I need to get a picture of them and put them up on here.

• United States
15 Apr 08
200 is alot of bells. Do you ever ring em for fun lol. I bet you got lots of dusting to do with them.

• United States
15 Apr 08
I collect things because I like them...peach luster dishes....porcielier tea pots with sailboats on them...terry redlin prints and plates....john mccellan plates (mother goose series)..Nina fritz water colors.... Winter silohettes by dept 56...and other things too numerous to mention!

• United States
15 Apr 08
You sound like me with differmt stuff lol. I collect whatever tickles my fancy.

• United States
6 May 08
I would say a little bit of both. My husband is a collector, he has over 1030 decks of cards and tons of poker chips. I have a few things that I really should not have. I collect music and CDs and so does he, so it's both. I just often wish there was a way to just place everything in an area that was easier to find.

• Australia
6 May 08
i suppose you would call me a bit of both minnnie.i do collect fine china and anything retro kitchen things especially.i suppose its more for fun than value.i really like going to the op shops and finding fine china there and garage sales.cheers sue

• United States
6 May 08
Yeah same here my collections are just for fun.

•
6 May 08
I admit it, I'm a bit of a pack rat! I collect anything that might come in useful one day LoL. My house looks like a jumble sale, and it gets worse every day :-( There's only one thing that I properly collect though, and that's Ladybird books. For those who don't know, they are very popular children's books which have been around for years, originally published in Loughborough, England. They are little hardbacks, perfect for kiddie hands, and they used to make fabulous non fiction titles though they don't do so many of those these days. Some are now very valuable indeed. Anyway, these are my collection and I have an awful lot. I collect them for fun, but I'm sure there's a few in there which must be valuable now.

• United States
6 May 08
Thats cool. My house is the same my hubby hates it.


• United States
17 Apr 08
You sound like my mom she loves her nick nacks too.

• United States
16 Apr 08
Ugh my husband is a horrible pack rat. Now he is taking my son with him. They say they collect things, but in reality, they are just pack rats.

• United States
16 Apr 08

Lucky you. Me and my hubby are both like this so we dont mind each others collections.

•
15 Apr 08
I do not collect anything anymore, it costs me too much money that I have not got! I used to collect these little dragons, and they were called pocket dragons, and they are so cute. If it was not so late here in UK I would go and get a picture for you, but it is 11.35pm at night and my hubby is in bed and they are in the bedroom. I do not think he would be too happy if I started flashing the camera off while he is asleep!!

• United States
15 Apr 08
Probably not lol. I also have a few dragon statues not pocket sized but fun too collect also.

• United States
15 Apr 08
I am more of a pack rat than a collector. I am trying to not save so much crap. When I was selling on ebay.. I would go to a garage sale or thrift stores to buy stuff to sell there. I collected boxes and packaging from work. Now that I am no longer selling.. I have been trying to get rid of that accumulated crap because I am tired of looking at it and so is my family. The only trouble is, since I am not selling on ebay or anywhere else.. I have no place to put it all I have a collection of Fenton Glass as well as Mr Peanut stuff.... but I have not added to either one of those collections in a long time

• United States
15 Apr 08
Good luck getting rid of all that stuff I know from experience it can be hard lol.

• United States
15 Apr 08
I'm a pack rack for sure! I seem to have small collections of everything. I think a collector is someone who actually organizes their collections either on display or in a safe place. I don't do that. And when I get tired of looking at thing I sell them. So many items I 'collect' I don't really have for long anyways.

• United States
15 Apr 08
Yeah I tend to display mine somehow not always super fancy but they arent hidden.