WHAT ARE U DRESSING UP AS FOR HALLOWEEN OR HAS HALLOWEEN PASSED??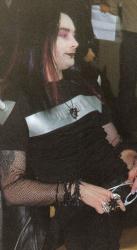 Australia
November 1, 2006 12:30am CST
i didnt dress up i didnt even know it was halloween
4 responses


• Australia
1 Nov 06
lol its not satans holiday besides hes probably not even real jus like god


• Australia
1 Nov 06
lol why did she choose to be a lady bug?

• United States
1 Nov 06
I think I'm scarey enough as me. I didn't dress up. I did wear my orange shirt that has a picture of vampire on it and says "Sleep all day, party all night" but that's the extent of it.

• Australia
1 Nov 06
lol im sure u dont look hat bad , why do u think ur scary enough as it is? thanks for posting

• United States
1 Nov 06
I dressed up as Bombularina from CATS

• Australia
1 Nov 06
i dont know whatur talking bout but thakns for posting