Fixing blurry digital photos?????

United States
April 16, 2008 7:01am CST
Okay I really need some help from people who have experience with editing digital photos. I recently took some picture this past weekend and some of them came out blurry. Most of the blurry photos I am not worried about and will just scrap them. But a few of them are some really great shots if only they hadn't come out blurry. So my questions are: Is there any way to fix the blurry pictures? If so, how? Are there any good programs out there for this? If so, what programs do you recommend? Need some advice please!
4 responses

• United States
16 Apr 08
I have read of some programs that can take out some blur in a photo. The problem is that they are expensive and not user friendly. You see on TV and in the movies where they take a blurry photos and tap a couple of keys and it is clear. It doesn't work that way. what the program does is it looks at each pixel and makes a decision what color should this be and changes it. You new photo may be clear but distorted in the color scheam. At 145 MPH the car is traveling 200 feet per second. If you are shooting at 1/1000 of a second the car is traveling 0.2 feet (2.4 inches) in the time it takes the camera to capture the photo. Add to this the camera shake that occures and the car shake (up and down) and you will have a blurry photo. There are some things that you can do to compensate for the movement. The first is to pan (move with the object) with the camera and keep panning after you take the photo. The other thing is to use the viewfinder in the camera, keeping your elbows close to your body, move your upper body, and don't try to use the viewing screen on the camera. You can buy a more professional camera such as a Canon Mark series ($3000 and up) with a high speed lens ($2000 +) and imiage stablization built into the lens. The other thing you could do is try some different modes on your camera. Some cameras have good quality digital movie mode that you can get some larger(5x7 and 8x10) prints made from the movie frames. You will need to experment with this. It would help if you could tell us what type of camera and post one of your Good but Blurry photos for us to better see the problem.

• United States
16 Apr 08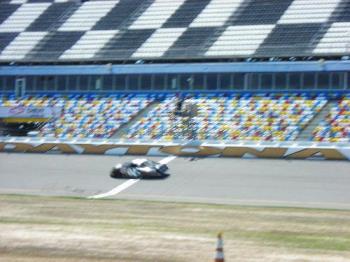 Geez! Lots of advice here! First things first. I am not trying to be professional photographer, so I am not going to go out and spend tons of money on a $3000 dollar camara. A friend of ours got to do the Richard Petty driving experience at Daytona. So we went to take pictures and to watch him drive 8 laps around the track. I am very familiar with the way my camara works. I had it on the appropriate setting for the race track. Actually most of my pictures came out fine, they weren't blurred at all. It was just a few that came out real blurry, one in particular would have been an awesome shot had it not come out blurry. I think I know what part of my problem is. There is a medical condition that runs in my dads side of the family that causes the hands to shake really badly. My dad says it's not parkinson's as he was dealt with it since he was a kid. I never thought I had it until about 6 months ago, I then noticed that if I try to steady my hands they start to shake. So this is probably part of my problem. As for what kind of camara I have, It's a Nikon Coolpix L3. Here is the picture I am talking about that came out very blurry.

• United States
17 Apr 08
Thebeing, thanks for the input. But I am very happy with the camera I have. I just need to stop shaking when I am trying ot take the pictures. What I actually need is a tripod.



• Romania
16 Apr 08
nice try. panning takes a lot of practice to be GOOD. + there is not way to take out the "blurriness" from a photo. I assume that you need to remove the blur caused by handholding the camera, right? That's the most common blur problem in photography. The rest of the blur, well, you can get away with it (the panning example of bobmnu or the selective focus from a potrait or a close-up/macro).

• United States
17 Apr 08
"there is not way to take out the "blurriness" from a photo" How can this be?? When I was rescearching fixing blurred pictures on the interenet, I found a ton of programs that claim to be able to fix blurriness. They are just so darn expensive. I also found a few trial versions but I just don't know which one to use.

• United States
21 Apr 08
I would recommend the program "Focus Magic". It can fix blur caused by camera movement, or blur caused by an out of focus subject! The program comes alone, or as a plug-in for Photoshop, Paint Shop Pro, PhotoImpact, etc. There is a free trial on their website focusmagic.com The free trial will allow you to run it on a small number of images (it's something like 10-15 images...) After that, you will have to buy the program which costs $45 (USD).

• United States
21 Apr 08
Finally someone has actually recommended a program. Thank you so much!!!!! I will check it out. Have you used the program yourself for blurry pictures??? Does it work really good?

• United States
16 Apr 08
Unless someone else knows of something I don't (then we'll both learn something lol) there is no fix for blurry photos. You can edit, color, croping, but as for blurriness, there is no fix, other than when you take the photo. I take anywhere from 5 to 10 pics of anyone subject that I am trying to capture, for the simple reason I know not all are going to come out as a great end result, but I do know that out of 10 I might get 2 - 4 good ones and a great one. Sorry I couldn't help you with that, I know it is to download pictures and not have any good one to keep, and of course normally it is of something you can't go back and recapture.