did you like the movie charlie's angels 1 and 2?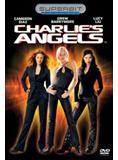 Philippines
April 16, 2008 6:13pm CST
i really found it hilarious. i was surprised that alot of people were bashing it on imdb. maybe they were more concentrated on the storyline's loopholes i guess, rather than enjoying the movie's humor. some called it the worst movie ever. oh puh-leeze. there are alot more worse films out there. ever heard of glitter and gigli? they were like hollywoods two most famous movies that suck, so charlies angels couldnt be that bad. i liked both movies. they really made me laugh till the end. how about you? did you like the 2 movies? yes or no? if not, what did you not like about it?
5 responses

• Philippines
17 Apr 08
I've watched it in cable for how many times. My sister watched it on the big screen because she likes Drew Barrymore. She said it's better watching it there because of the effects and the sounds. But when I saw it on tv, it's still okay. Lots of funny scenes and actions. I like it.

• Philippines
17 Apr 08
i saw the movie on dvd, i just saw it out of curiosity coz i didnt know that its a comedy/action type of movie, i thought that it was an action movie with females as lead.boy, was i pleaseantly surprised! very entertaining and funny. they even show the funny clips when they make mistakes at the end of the movie.

• Philippines
17 Apr 08
I loved watching the Charlie's Angels movies. I love the funny outtakes, especially that of Drew's. The angels are a good mix of different personalities, and I love how the movie was presented.

• United States
17 Apr 08
I used to watch Charlies Angels years ago when I was growing up. I have not seen it since then. I don't like alot of the remakes of the older shows because it is just not the same to me especially if the same actors and actresses aren't in it. I haven't seen any of the other shows. Maybe I should if it is funny.

• Jordan
16 Apr 08
it was amazing diedre. I really like it. I dont care about what other people say. I just like it. thanks for the question. have a good day. thanks

• United States
16 Apr 08
i did..i really liked them...they r funny