which would be your next mobile and why?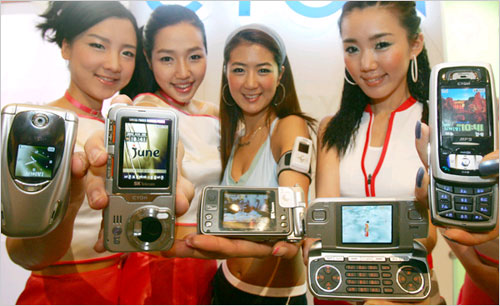 India
April 18, 2008 8:43am CST
most of us love our mobile phones and a a lot of us are crazy about it also. but i am sure that 90% of people are looking forward to buy another mobile phone. so, which one would be your next phone? and why are you selecting that as your next phone? is it because of the features or the brand name of it?please share your interests with us...
5 responses

• United States
19 Apr 08
I don't know what phone I will get next, but I know that I need a new one asap!!! I have a stupid Kyocera that I cannot stand. My first problem with it is even though I have good reception, sometimes it waits 20 minutes to an hour to send a text. I can't forward texts, because no matter how long it is, it cuts off the end of it, so I have to type it in myself. Just a couple of days ago, the charger connection got a short in it, so I have to put it a certain way for it to charge, else it won't. Fortunately my service (Cricket) Is giving me a $40 discount on my next phone next month for having service for three consecutive months. I don't know what type of phone I will get, but it will definitely be better than this mess I have now.

• India
20 Apr 08
everything seemed new for me. i have never heard of a kyocera mobile phone and a cricket network. good to know. kenya, which country are you from? i am eager to know more about your country and the other network providers. and it was new for me to know that your network service provider gives you discount for being with them for more time.

• United States
20 Apr 08
I am in the United States. I don't know how wide the Cricket network is, but its fairly new and doesn't even reach the whole of my country. I forget what model my phone is, but that is because its stupid and I don't pay much attention to it. I can't wait to switch out late next week!!!

• Manchester, England
20 Apr 08
My current mobile phone is just over a year old, which means that I could upgrade it virtually anytime now. However, I have a Sony Ericsson W8501 and I have not seen a model worth changing it for. It would be rather pointless to upgrade yet and forfeit the option for the next year, so I will be waiting until a siutable model appear on the market.

• India
20 Apr 08
oh, ok, thank you asylum for joining the discussion. hope others also would join it very soon.

• India
18 Apr 08
My next mobile phone would be a camera phone with 3.2 mp camera.it should have a music player and a radio.

• India
18 Apr 08
good. which one are you using now? even i would love to have a mobile phone with a 3.2 mp camera. do you have any particular brand in your mind for your next mobile?


• India
20 Apr 08
hi jason. seems you are so much brand loyal to sony ericcson. i have used sony ericcson some time back an my current mobile is samsung. i like sony ericcson's sound quality. it is extremely good. in samsung, i like the camera and overal i like nokia. my next phone will definitely be nokia.

• India
20 Apr 08
i got ma first cell when i was in clas 10th..and i luv that mobile..i still have with me after 7 years..and will neva sell it.. i just love it