Does anyone here have a Nigerian Dwarf goat??

United States
April 18, 2008 5:46pm CST
Just wondering if anyone here has a Nigerain Dwarf goat or goats. They are the best goats, or at least the one I have is a super boy. Or does anyone have goats at all??? I have 3 goats and they are very entertaining and good goats. They do get into all kinds of trouble like rubbing on the fences, to scratch themselves, so the fence gets all bent up. And they love to just get into places that they aren't supposed to be in. But they are good animals. Would love to hear from anyone that might have a goat or two.
6 responses

• Gold Coast, Australia
19 Apr 08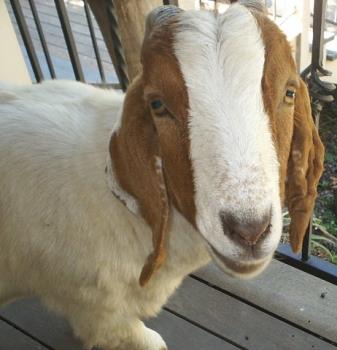 I don't have goats, but my friend has 4 of them (don't know what kind they are). My friend's children are very attached to them. You are right Marge, they're always getting into trouble of some sort and are always looking for something to eat, but I quite like them. They like to be scratched and they follow you around the property like dogs! They are always stealing the horses feed but the horses don't seem to mind!

• Etowah, Tennessee
26 Apr 08
I would like to have a goat, but my BF told me I could have one at the place I was and I am in town now and can't have one. I don't know why he didn't want a goat but I think they would be great! Just one of course, But he still said no goats!

• Australia
1 May 08
Goats are herd animals, when I got my Pickles he was a baby and thought that the dog, cat and I were his herd.

. Now that I have a nanny goat as well he is a different boy. He's much more playful and bossy but doesn't butt us as much. He still tries to squish the cat. Poor Banjo, he just loves Pickles. If you want a goat and get the opportunity again, make sure he has a "herd", wether it's children or other animals. They are curious, intelligent playful animals and a good source of fertiliser.

You can't have a garden if you have a goat.

• Etowah, Tennessee
2 May 08
Thank you for the info Mstickle. My landlady would FLIP if I got a goat!!


I will keep this info in mind if I get to a place were I can have goats. My BF's dad had some and they sleep on top of a car that was parked there broke down. LOL It is a good thing it wasn't his vehicle he drives!!LOL

• United States
19 Apr 08
I don't have any goats but used to work on a farm that had them. Think they were pygmy goats. They do seem to get into alot of trouble but the babies were so adorable. The ones I knew would come up to you and want to be held.

• Australia
26 Apr 08
I thought that was a goat in your avavtar but I wasn't sure. A few of us have goats. I have 2...Pickles and Tulip. I don't know what sort they are but they are partly bred from feral goats. Pickles is my boy but I've had him marked. He is very funny and bossy. Tulip is my lovely little girl and she has a broken leg which is healed but bent back at the knee. I rescued her after her owner abandoned her. There are a couple of discussions about goats too. Nice to meet you.

• United States
27 Apr 08
Thanks for responding and so glad to know someone else that has goats. And love the names. Tulip is very lucky to have found you. Actually the picture in the avavtar is my miniature donkey whose name is Joe. He is a character too along with the goats. They all keep me entertained/

• United States
26 Aug 08
I have six of these beautiful goats. Check out my blogger spot to see them. http://jadegoat.blogspot.com/ They are the sweetest animals I have ever know in my life. Mine do bend fences, but they stay out of trouble. NO goats do not eat anything. At least not this breed. They are very picky about what they will eat. I just had two baby girls on July 5th and will breed the older females to my new male in Dec. or Jan for early summer babies.

• United States
1 May 08
I've never had goats, Marg, but I have had horses and would love to again, but I don't see that happening any time soon. If I ever found myself in a position to own a little land and have a horse or two, I would probably opt to get a few goats as companions too, instead of more horses. I think goats are adorable (and probably not nearly as much work or cost as a horse!).