Hi cake lovers!

Virgin Islands (U.S.)
11 responses

• Australia
20 Apr 08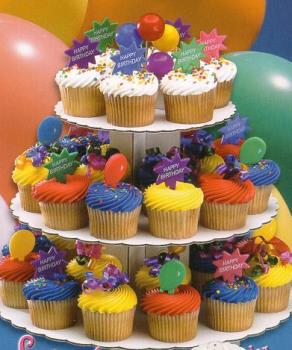 I like cake too and ice-cream, but I think the only cake I am not that keen on is fruit cake, and people are always saying what a strange person I am because I like shop bought cakes better than home made ones, everyone else seems to think Home made is better, hmmmm the smell of a cake shop that is something else....

• United States
19 Apr 08
Just readin what you wrote is making me hungry. My mother is a baker and that's what she does. So I love it when she makes her yummy cakes and her sweets. Right now I am hoping that she makes one soon.

• Philippines
21 Apr 08
lol you're making me hungry after i read your discussion


• Canada
21 Apr 08
I love cheese cake, I love black forest cake, I love mocha cake, and I love carrot cake.

• United States
21 Apr 08
Me too, I saw that picture and needed a tissue, Cheese cake too, boy if we didn't have to worry about calories and fat, I would bake me a cake daily, yes I would! :)

• United States
21 Apr 08
I also love cake! I like just about any kind of cake. I especially like the pieces with extra icing on them, like the icing roses and stuff. I always try to go for the corner pieces since they have the most icing. hehe My husband is going to be coming home from overseas soon, and I bought ingredients the other day to make him a welcome home cake--it's been really hard for me to wait until next week to make the cake!! lol

• Philippines
20 Apr 08
I am a cake and ice cream lover. hehehe..! so much..They said i should not eat too much of it coz its not healthy thing and it could make me fat. Hey?? i love it and i want to add some extra pounds coz im so slim.

• United States
20 Apr 08
i love cheesecake. i just made a banana cream pudding cheesecake. it was very good, my husband loved it so did my kids and my parents.


• United States
20 Apr 08
I am not a huge fan of cakes. The one cake I love is chocolate cake with peanut butter frosting. Plain old cakes with icing don't entice me anymore. I enjoy decadent cakes with marvelous fillings and toppings.

• United States
20 Apr 08
I like cake with TONS of frosting on it. Often, I eat the frosting, first. That picture of a chocolate cake used at the interest's avatar looks real good, too. But, I have a problem that can be serious. Because the type of cake that I love is so full of sugar that I get severe headaches whenever I eat it. Plus, I will bloat up really bad and feel sick all the rest of the day sometimes. But, I love it so much! However, I rarely get to eat any. Mostly I eat cookies which rarely bother me.