What is your life's purpose??

United States
April 20, 2008 12:40pm CST
I got an email today from an astrology site that said "Carol, what is your lifes purpose" Yes my REAL name is Carol lol

Anyways it got me to thinking. Really, what is my life's purpose. I think I was here to raise children, but now. They are grown so what am I here for now??. My answer is to make other people smile, because I do that a lot. OK
10 responses

• Singapore
21 Apr 08
Hello there mssnow, I think that this discussion is really a cool one. For me, my life's purpose would be to be a good man on this Earth and to do good things in life. Even though life doesn't agree with me, I will try to be as strong as can be and just go through with all the hardships and stuff like that. I hope that God will give me the courage to go through any difficulties should there be.

• Philippines
21 Apr 08
i don't know yet????you know im still fixing my life right now..im starting on it. What will be ?????ahmmm.. i guess to love? to give love..to share love..I can't figure it as of now. But i try to smile everyday and to be happy! Im so frawn for several days..God left me up and realized me to move on and go on whatever purpose my life have! :)

• United States
21 Apr 08
Well I have always thought I was planted here to help those less fortunate than myself. I have always supported and helped mentally and physically handicapped people. Even as a 6 year old, my best friend was retarded and I was the only kid that would play with her. There was also a baby that lived in our neighborhood that had no hands and I was the only kid that would play with her. I spent most of my adult life working with handicapped people. I think that's part of why I get so depressed that I can't work right now. I have been out of work since June of 05. Hopefully I will be able to get back to work or help in some other way soon. Brightest Blessings, Mari

• Canada
21 Apr 08
A very good life purpose from another carol, me, My purpose in life was to help people and I have none that in many ways all of my life, now I do it through my books, my e-zine, and my writing.

• Philippines
21 Apr 08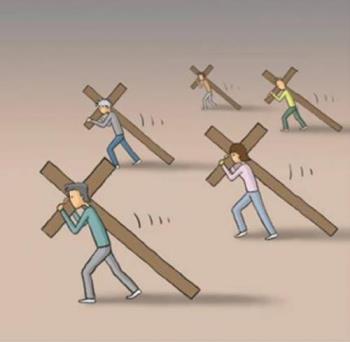 My purpose why i am here? I was born to do things according to God's will. I am here because He want me to do things according to his plan. I was the first angel to my parents. A child who are too independent to them,a sister to my brother an sister. To be a student, a classmate and a friend. I am here to be a mother of my beautiful angel alexigne. I gave her the name meaning defender. I was born to make people smile and cry. I was to born to be tough and strong for more challenges that God will give to me. I was born to carry the cross that God gave me and when God knows that i can't stand even i am struggling to carry it by my own, God will send His instrument to help me to move on and pursue. I am here to be once failed and go continuing with my life. I am here according to God's purpose and later believing to be an angel again. Read this one about carry your cross, its really cute and touching foe those who believe in Him. http://hubpages.com/hub/carry or you may watch too http://youtube.com/watch?v=og8naGgWDPQ

• Singapore
21 Apr 08
I guess I came to this world for a purpose, perhaps to mylot? I am not sure what is my life's purpose. I guess it is to provide a helping hand to those who needed a hand, to provide company to those who are alone, and more important to help stimulate the economy by my spending.


• United States
21 Apr 08
I am not really sure what my purpose is in life other than to work hard. I think I am only here to help and do for others. It hardly ever comes back to me is why I say that. It is very hard for me to find enjoyments in life also but I make alot of enjoyments for others.

• Etowah, Tennessee
21 Apr 08
My lifes purpose is to try to keep my scouts busy and teach them good values. I LOVE kids and most everything I do is for the kids. My children, my scouts and strangers kids as well. There is nothing more special than a child's smile. I think if I can make someones day better everyday then it was not a wasted day!

• United States
20 Apr 08
well it is said that everybody is born with some purpose in life and respecting that, i belive i am here to make a little difference in whatever i can by helping old people as and when i can..... seeing their smiling faces after i have helped them out give me a deep sense of satisfaction. it feels like i have done something right today.......