Relationships are the ultimate tie- breakers!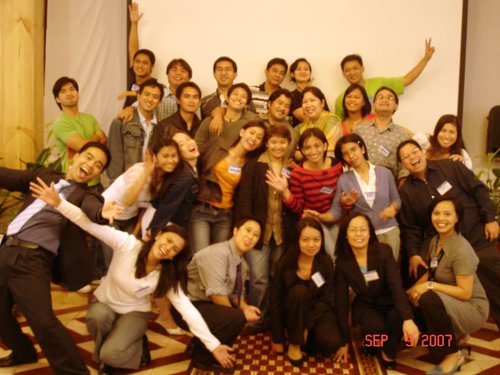 Philippines
April 21, 2008 7:22pm CST
Beyond the basics of food and shelter every other human need is social, satisfied only through relationships with others, and the more genuine those relationships the deeper the satisfaction. That is why families are created, friendships are made, and communities are formed. And that is also why in almost every circumstance of life, when all else is equal, relationships are the ultimate tie-breakers.
7 responses

• Philippines
22 Apr 08
Hi jeanniemay! I do agree that relationships can give us great satisfaction especially when it is genuine and true. With all the trials and failures one has gone through one way or the other, a relationship that is successful can always bring us up when we are down on our knees. To be honest with you, I hold on to my relationships very dearly, it is very important to me that it is somehow smooth sailing. My relationships with hubby, family and friends are what makes life really satisfying. It gives you home and it gives you security. Of course, I won't deny the fact that we need the basics too in order to live a good life but like you said and I completely agree with you, that relationships in its full context and meaning makes life more bearable and more satisfying. Just my thoughts dear friend! Take care and have a nice day!


• Philippines
22 Apr 08
That is a thorough example of what relationships are all about and Ate Faith, thank you for trusting us and sharing it with us. Cheers and let's continue to spread more love here at mylot!


• Canada
22 Apr 08
Yes relationships are the foundation of almost everything, Confucius did say the family was the basis and corner stone of society. But I still follow the theory of Abraham Maslow, that there is the pyramid structure and self actualization; the idea of being the best that we can be is on top and is a personal not social function.

• Philippines
22 Apr 08
we really need people in our life! if not because of them..our life will be miserable, boring, and not worthy of living. as the old adage say "no man is an island" i really cant imagine myself being alone..no one to talk to..no one to listen to..no one to be with...huh!

• Philippines
20 Jan 09
... and of course Jem, I want to thank you for being my friend.

JNY

• Garden Grove, California
22 Apr 08
My friendship with my best friend nelda has been a life saver for me as I was so depressed after I was summarily let go for being eighty and still working at the library. I just did not know what to do with all that free time but my best friend suggested we meet every other Wednesdayeve and have supper together and just talk our fool heads off and that has been a blessing for me. Then with mylotting my days are full again and I am happy again.

• Philippines
22 Apr 08
Hatley, thank you for sharing your experience and how your relationship with your best friend and even your mylotting made an impact to your day to day and that made you full and happy. Cheers my friend and let's continue to share our love!


• Davao, Philippines
24 Apr 08
i agree! No man is an island. We are design to mingle others so that we can feel the essence of life that is "Love". we must value once life and save every relationship we have. Therefore, relationship are the ultimate tie-breakers.

• Jamaica
24 Apr 08

That is so very true. The nature of our relationship with others can make us very happy or very sad. Relationships do get us going or get us down. Look at a pregnant mother who starts to form a relationship with the baby even from in the womb. No man is an island, no man stands alone. Just goes to show how much we all need someone in our lives to show us love and affection.