Counted Cross-stitch Picture I sent to my older sister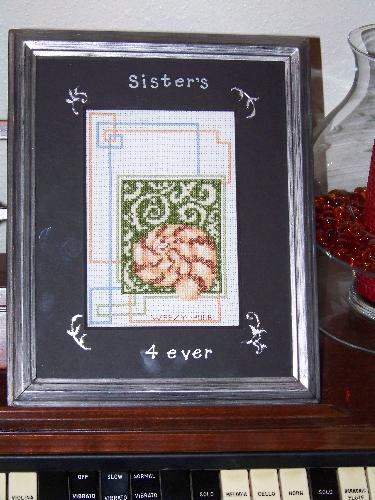 United States
April 23, 2008 8:44pm CST
I just started a discussion about a cross-stitch picture I sent to my twin sister and she liked it. I also sent made a cross-stitch picture to my older sister. My older sister like my twin sister has different tastes than I do. I sure home she likes the picture. I sent her a note in the box that she can throw the picture away if she does not like it. You do not know how I feel when I make something and I know my sisters do not like it. I am on pins and needles. You ask me why I do this I cannot tell you. I guess I do it because I love them so much.
2 responses


• United States
29 Apr 08
Hee,hee how yours was mailed the same day. I am so glad you like yours.

• Philippines
24 Apr 08
That is a very nice cross-stitch picture... i use to cross stitch in the past... but stopped since i became quite busy... and now my baby will surely not give me enough time to do some cross stitching again... I used to make the really large ones... and gave them away as gifts... so now i only have one hanging on the wall of my mother's house...

• United States
24 Apr 08
I am making one that is embalished. That is where you cross stitch over the colored picture. If you have never done one of these kind they are very pretty when they are done. I could not do much needle work when my children where young. Now that they are adults and have lives of their own I have time.