Want to make INCREDIBLE brownies from a box mix??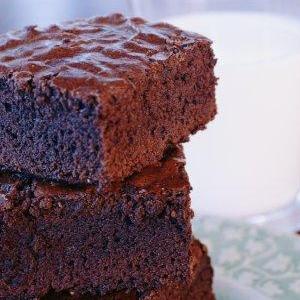 United States
April 25, 2008 9:04am CST
I love to make box mix brownies but they never seem to come out right. Then I had heard somewhere to add applesauce instead of oil or some say to do 1/2 applesauce to half the amount of oil called for. I decided I would just replace all the oil with the same amount of applesauce. Then just bake as usual. They came out great!! I use the unsweetened kind of applesauce and found that using applesauce instead of oil is actually healthier for you! WOW! Something that tastes great and a bit healthier for you!! Another tip is to use a plastic knife to cut the brownies instead of a metal one. I've never tried it but was told the brownies don't stick to the plastic. By the way, the brownie mix is the generic kind
8 responses


• United States
22 May 08
Thanks for the comment, loved! I was afraid at first too but eventually tried it and thought if it doesn't taste good, then oh well but luckily it was great!!

• United States
21 May 08
I've made cake and brownies with applesauce. You actually can't taste the differece. I prefer the applesauce since it is healthier for you. The brownies are just as good.

• United States
22 May 08
Thanks for the comment, snowy! I haven't tried it with cakes but will do that, actually sounds good. I will try it with applesauce and thanks again for the tip!!



• United States
9 Jun 08
I've never had things come out better with applesauce. Nearly the same on fruit muffins, but not better than with oil. I know it's better for you, but I haven't always found that substitution to work. I guess it's especially good for you if you're someone who eats too much oil in their diet, but we do actually need some. So since I don't eat a lot of oily foods, I will generally bake with oil. However, I do replace the eggs in recipes with Ener-G egg replacer, which cuts out all the cholesterol and saturated fat, so it's not like my baking is totally unhealthy. And I replace milk with soymilk.

• United States
17 May 08
Thanks for the tips. I've heard that you can use apllesause, but I never tried it.

• Kuwait
26 Apr 08
maybe its from the procedure that can be perfect or no,,,sometimes baking has the perfect ingredients but the problem is the baker is no concentrated or not fully experience and lack of knowledge, i know it because when im trying to bake i cannot do the same as the one in preparing from the cookbook.

• United States
25 Apr 08
I have used applesauce before it makes the brownies taste great! I have been thinking about baking some brownies I will have to bake some this weekend. Thank you for making my mouth water for delicouls brownies!