Fatal Shark Attack on My Favorite Beach. :(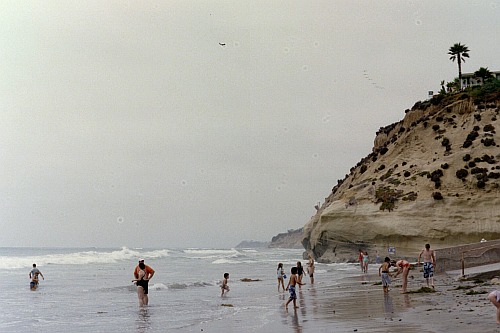 United States
April 25, 2008 11:04am CST
I just heard on the news that someone was bitten very severely by a shark at my favorite beach here in Southern California. I guess they were swimming near Fletcher Cove in Solana Beach when it happened. Fletcher Cove is not a beach near me (I live inland, anyway), but I travel out of my way to swim there because it's very beautiful and easy to get to. I've often seen fish and other animals in the water, but I've never heard of any problems with sharks. They usually have the more docile sharks species that swim nearby that don't bite.
4 responses

• United States
25 Apr 08
Ouch Darelene, I guess you won't be going swimming there again. do they think it was a rogue shark? That is tragic. It would scare me out of the ater for a fact.


• United States
26 Apr 08
I saw it this evening Darlene on the news. Shame.

• United States
21 May 08
Darlene again thank you for the BR :)))

• Malaysia
29 Apr 08
I'm sad to hear this. It means that something is wrong with the ecology system. Something wrong with the food chain. If the sharks didnt bite before and now they do, something is amiss in thier food chain. Anyway i hope things can return to normal. But still when fear creeps in, there is usually the worries that if it had happened before, it will happen again.

• United States
29 Apr 08
Shark attacks have happened here in Southern California, but not in this area for a very, very long time. Great Whites are a little rare in this area compared to up north. But, they are spotted now and then. Most of the time, they're not a problem because they really don't like to eat people, but seals.

• Garden Grove, California
31 May 08
desertdarlene I also live in So.Ca but about ten miles from the beach. our nearest beach is Newport beach and I do not think they have ever had a shark come in close to shore that would really scare me. I have seen seals and pelicans and fish but no sharks thank goodness' for that. I live in Tustin Ca. good to know other southern californians are here too.

• United States
1 Jun 08
I live pretty far inland, but I go to this beach quite often. I've seen sharks and other fish near the shore, but they're usually pretty harmless.

• United States
25 May 08
its sucks that there are so many shard attacks in florida . its the warm gulf

• United States
25 May 08
You're right about Florida, but in this case, it was in California and our water is cool. Usually, we don't see a lot of Great Whites around here because they like even colder water.