Policeman Confuses Tazer With Gun And Kills A Man....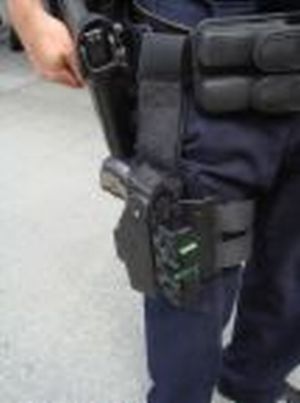 Australia
April 25, 2008 12:54pm CST
This is awful! I was watching the news last night and a clip came on explaining how a cop came to a scene where two men where arguing (without weapons mind you) and he reached for his tazer and instead pulls out his gun and fires and kills one of the men. This cop was aquitted of any blame in the incident. HUH? What the....? I just think this is so wrong. These cops get away with bloody murder and walk away free. It's not fair and it's down right wrong. If you become a cop, you're trained to protect the innocent. You hold people's lives in your hands. So, you better make darn sure you know what you're doing before you go out on the streets. First of all, way to often these days, cops are so quick to pull out these tazers. I just heard of an incident where a kid in elementary school was tazered. Innocent people are dieing from these things. Cops find any excuse to use them and for some of the stupidest reasons too. I think these things should be banned. They are weapons and have been known to kill. Either that or a law needs to be passed that they are only to be used when the cops are sure that their lives are in danger or harm is going to be brought to them. I mean, these are men that are trained to take down people who are freaking out. They don't always have to use those things, they just want to... Second, this cop should not get away scott free. Something needs to be done here. He needs to be fired or something. He cost a man his life and his family is going to have to deal with it forever. He should not be able to walk away with not much more than a slap on the wrist. What do you think about this incident?
2 responses

• United States
30 Apr 08
I think that is aweful what happend. Tazer's are dangerous and the two were just argueing not fist fighting or useing weapons. Why didn't the officer just break the argument up find out what it was about and settle it that way. He cost a life and in my eyes he should be fired from being an officer and tried for murder. I hope the family brings this to court. They have to suffer w/ a loss all because of an officer doing something deliberatly stupid.

• Australia
30 Apr 08
I completely agree but as of right now he's got off without even so much as a suspension. It's too wrong for words if you ask me...

• Davao, Philippines
30 Apr 08
cops role is to protect the civilian but the news state it is now different instead i will kill the civilian, can cops now be trusted specially during disputes between civilians. they must neutralize the situation. the worst the cops are free even they make crime.

• Australia
30 Apr 08
I know and it's really scary to think about. I think something needs to definitely be done to put a stop to cops that abuse their authority in such a way...