An Inconvenient Truth movie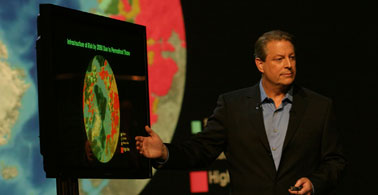 Indonesia
April 25, 2008 9:42pm CST

I watch this movie yesterday. It about global warming is true incoming, and how it will affect you life and mine. The scary part when i saw a polar bear swimming out miles away to find an ice to stay because all are melted. i wish we can stop the global warming. But how? i even don't have a car. So please who ever own a car out there, test emisi at your car. make sure it's save to us. Lets do something, any suggestion? i really love our polar bears.
5 responses

• United States
28 Apr 08
Years ago I cried over all the billboards! seemed like all the world was becoming one big market place! I think there may be global warming going on, but I'm inclined to think it's either normal weather changes and patterns (not all scientists agree) I remember half the world used to be glacier.. for awhile.. Or I do somewhat strongly think earthquakes, floods, etc, may likely be judgments over some of mankind's doings which includes our over consumerism, etc.. (but that's not all we do wrong)

• Indonesia
1 May 08
This is scare me a lot! I just watch it at HBO asia , but i think you are right not all we do is wrong.

• Indonesia
28 Apr 08
i love our polar bear too dear friend, and yeah its really frightening us if the great disaster happened cause of global warming effect. we can't do nothing since the earth has many amount in population. the only thing that we can do at this moment starting frm our own self and then slowly to environtment around us. just wondering if the advance country really have technology to overcome this matter


• Indonesia
28 Apr 08
Thank you for your opinion plumwish07! i will visit one of your discussion later in return.

Happy posting

• Philippines
30 Apr 08
i guess the right statement should have been...YOU LOVE THE EARTH..that's why you're scared...the best motivation i guess is, doing something to prevent this global warming...everything is for the EARTH...man this is were we live..this is were our next generation is gonna live..

• United States
26 Apr 08
The scary part when i saw a polar bear swimming out miles away to find an ice to stay because all are melted. You do know that scene with the polar bear was fake, right? The person who made that "documentary" is being sued for misrepresenting the facts. Even though you don't have a car, you have a carbon foot print. You need to go eco-friendly to help the environment. It goes way past a car.

• Indonesia
26 Apr 08
But that is still scary to describe that all ice are melted and no home for polar bear no more. Past cars like factory and all? teach me on this, please

• United States
29 Apr 08
Hi diansinta, I really appreciate your tender heart. Your feelings were very clear in your post. I wish that all of us were that passionate about things in this life. But please don't spend any more of your passion on global warming. It is just not real. Well, let me rephrase that. The earth may be warming but it is not because of anything we are doing. Scientists also believe that Mars is warming as well. We CERTAINLY are not causing that. We are probably just experiencing a normal cycle of the sun. Rest easy my friend. Am Inconvenient Truth conveniently left out a lot of facts. It won Mr. Gore a Nobel Prize and earned him a lot of money. That is pretty much all it is worth.

• Indonesia
1 May 08
Thanks Guardian208, I will rest and visit one of your discussion in return.