Harbhajan slaps Sreesanth and got banned from 5 one dayers!!!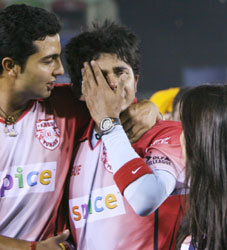 India
April 26, 2008 11:47am CST
Yes, it happened after yesterday's match between Mumbai and Punjab. Harbhajan was upset after his team losing all the three matches. Sreesanth went to him and said "Bad Luck". Unfortuately Harbhajan lost his temper and gave a nice slap to Sreesanth. Channels were telecasting the scenes of sreesanth crying after the match. it became an issue and harbhajan asked him pardon. Anyway, I think he should have taken it in a sportsman spirit. What do you think? was it right to slap a team mate? AND THE RECENT NEWS: Harbhajan banned from 5 one dayers for slapping sreesanth
10 responses

• India
27 Apr 08
I think whatever Harbhajan has done is certainely wrong under any circumstances. Even if Sreesanth has commented something or not. As skipper Dhoni said after Australia series that these are the tactics and one need to cope with this all. So on harbhajan's past its not correct and even Sreesanth should be bit less agressive on field. Anywyas what i heard latest is that Harbhajan is temoprarily banned from IPL. Not sure whether its true or not.

• India
27 Apr 08
ya krish. harbhajan is suspended for the time being, hearing is on monday... from newspapers i could know that the minimum punishment will be a ban from 4 tests or 10 onedayers...

•
27 Apr 08
what ever shreeshanth told thats not mind harbajan beats is wrong

• India
27 Apr 08
It was a very sad incident. Both guys are known for their temper. But it really put bloton team india's image as they are seen by the world as most aggressive cricketers. Harbhajan really did at very wrong time and wrong place. It was only few months after bhajji's controversy with symonds. This incident gives bhajji a villian kind of role in cricket. The whole faoult was of Harbhajan Singh as slapping a team mate is no minor thing.I think bhajji should be banned for atleast a year for thais thing.

• India
28 Apr 08
Vajji and Sreesanth both are same beahaviour in field . how could you say that its the mistake by Vajji only. Sreesanth's comment is the on the right time. Where as the Captin of a loosing and the presure of consicutive loses. must make Harbhajan to lost his temprament and accidentally he take the action.

• India
28 Apr 08
so, i think the final verdict has come and harbhajan is banned from the remailning matches of ipl.


• India
27 Apr 08
hey vinubaby123 It is really shameful day for Indian cricket as both Indians are creating nuisance in the field of cricket which was viewing lots of people all over the world. If we are quarrelling in this way how we will show the others to maintain gentleman game. After 3 consecutive defeat mumbai Indian team puzzled and lost their balance and as bhajji was captain he also loose his temper and such incident occurred .Though actual incidence was not shown by the channel but crying of sree and console him by his teammate was shown . Whatever it may be it is very ugly scene in the history of cricket . Team India is knows as best team amongst other in terms of behaviour, gentleness, polite but I think this incident affects lot. Banning on bhajji is right decision. However these two chaps always shown their arrogance. I do not blame bhajji alone there must be some thing which provked bhajji to act on this way. pkc3000

• United States
27 Apr 08
I don't think so. Sportsmanship is very important. Although banning Harbhajan was a little harsh, he did a very unsportsman-like thing to slap Sreesanth.

• India
27 Apr 08
This is a sad news. Harbajjan wanted to express his sadness. So it turned to anger. I also cry for sreeshant.


• India
26 Apr 08
yes my friend, what we saw was not something which would made our cricket proud. what bajji did is not at all right and we all know that. more over, why would you slap your own team mate, and that also who is junior to you. i know sreeshant has a very bad way of talking, making gestures, but what ever it is, you should never put your hands on some one. he slapped his own team mate and that s not at all a true sportsman sign. i think what he got was very less. he should have been banned for at least six months from international cricket so that he could have understood the importance.