Food??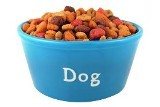 United States
10 responses


• United States
29 Apr 08
Aww that is so sweet. It sleeps in the bed with you guys :)


• United States
29 Apr 08
OH AMY!!! I have lots to say right away! First off, most of these responders and yourself are using PURINA! Purina is the product that had the poisoning issues and also, along with other brands uses by-product (other dog parts) (take a look at some kernels of food up close and usually you can spot dog hair poking out)in their food. I am enclosing a couple of links with important information for you. It is crucial information. I have 5 dogs so feeding HIGH END food can be pricey and I understand that, but there are great options! The first thing I want to introduce you to is the BARF diet...I know! I didn't name it....lol. It is the practice of feeding dogs (and cats) whole raw foods. Better and complete nutrition, without fillers (that they just poop out because their bodies don't utilize) and by-products. I feed my dogs chicken. I buy a 10-pound bag of thighs at Walmart and cut them up. You feed 2% of their ideal weight once a day. NO, THEY DON'T CHOKE ON THE BONES! They only choke on COOKED bones because they splinter. Think about wolves/dogs in the wild. What do they eat? Raw Meat. It is packed with nutrition, especially the bones. Their bodies use most of it, so they eliminate less. Their coats are shiny, teeth get clean. No messy dinners, just feed by hand. Every other day or couple days you can feed a SLOP mixture. I usually put in whatever I have, maybe some fruit that is going by (not spoiled). I throw in some eggs, some oatmeal, wheat germ, any fruit or veggies, some beef or chicken broth.....food process it, THEY LOVE IT!!!!! The website to learn more about the BARF diet is www.barfworld.com. There are other resources where you can get frozen raw food delivered, etc, but it's more pricey. If you have a decent butcher that is local to you, you may get GREAT deals there. You can feed turkey, chickenbacks, turkey necks, beef, etc. The other topic is dry food. It's amazing to me that vet offices sell Science Diet and Nutro....those foods, as well as Iams have by-products as well. They are more nutritional, but still NOT GOOD. Here's a link to some food reviews/comparisions....very important to read. I personally use Canidae. My cousin uses Innova, but it's much more expensive. Here are the comparisons and good luck! www.dogaware.com/dogfeeding.html#commercial

• United States
29 Apr 08
Oh my goodness...Thank you so very much for this information!!!!

• United States
29 Apr 08
She needs the one were you add wter and it makes a gravy for the food. Yummyyyy.... I bet thats what she wants :)

• United States
29 Apr 08
I gonna try getting some of that gravey sauce and put on it. I bet she will lap it up then:)

• United States
29 Apr 08
Well amyhendricks77, my dog is an English Bulldog. She is about 8 years old. Her teeth in the bottom front are worn away to nubs. So, we have to feed her with soft chewable food that comes in plastic packets. Just make sure whatever you change them to, their bowel movements will be different in color and texture for a few days. I try to stay away from can foods altogether. I had my baby, Miss Piggy, on Puppy Chow and she got tired of it too. It's ok to change them, but mix it with the old food slowly and work your way up to more doses of the new food and less of the old one. Make it a slow transition.

• United States
29 Apr 08
Very useful info. Thanks for replying:)

• United States
29 Apr 08
I don't have dogs but I have two kitties and I feed them mostly dry food as the vet told me not to give them wet food very often it is not good for them. I have been feeind my kitttens Kitten and Nibbles from Meow Mix but I got it in another town and they dont' sell it here so I will have to go to Purina Kitten Chow.


• United States
29 Apr 08

lol. Thought someone wasnt going to be spoiled??

• Finland
28 Apr 08
James Wellbeloved is what I feed, it's dry food but I add a little water to it to moisten it up. He loves it, it's the first food I've tried giving him that he's actually liked and it's not like I've ever tried giving him junk food like Pedigree or Science Diet. I stick to high quality foods only.

• United States
28 Apr 08
I havent heard of that one. I will have to give it a try. Thanks for replying.

• United States
28 Apr 08
i buy my dog food at a country feed store i have found that it is great food for the dog it is a meat based food and lot cheaper than the name brands at the regular grocrey store

• United States
28 Apr 08
I will have to look in to that. Thanks for replying :)