Do You Know How to Create a Screenshot of Your Proof of Payment?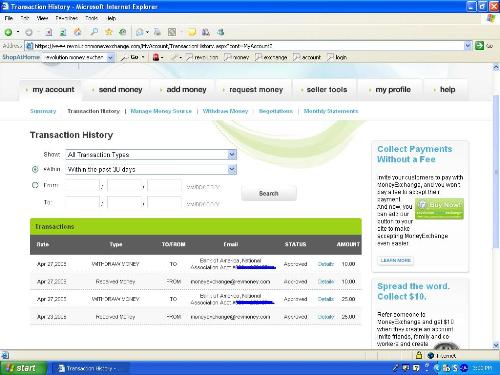 United States
April 29, 2008 2:32pm CST
I just signed up for Revolution Money Exchange (see the big green button at the top of my profile), and whilst browsing around on here I noticed that there are a lot of people who want to see proof of payment from PTC sites, and other paying sites. Frankly, I don't blame them. Luckily, I know how to do this, but then I realized that maybe some of you do not know how to get a screenshot and save it so you can show proof. All you have to do is the following: 1. Log into your PTC account (or whatever web site it is that pays you to do stuff). 2. Once you get to the page with your account history, that shows you have payments, hit the button on your jeyboard that reads, "Print Screen." It's usually located on the very top row, to the far right. 3. You'll notice that after you hit "Print Screen" nothing seems to have happened - this is ok. You'll see when you... 4. Open up the "Microsoft Paint" program. To open Paint, go to: STARTAll ProgramsAccessoriesPaint 5. Next, make sure the square is highlighted (It's by th estar shape.) If the square is not highlited, click on it. 6. All you have to do is press on your keyboard: "cntrl" and "V" at the same time. This will paste an image of the screen shot you took when you hit the "Print Screen" key earlier. You will notice your image has a dotted border around it. To get rid of the dotted border... 7. Unhighlight the square icon (by the star icon) by clicking on another one of the paint icons (doesn't matter which one). The dotted border goes away, and now you can... 8. Edit the image by crossing out any account numbers or private information such as a social security number, if applicable. After all, you ONLY want to show proof of payment - NOT give out vital information and risk identity theft...lol Now, you can... 9. Save your work! Click on "File" from the menu bar, and then click, "Save As..." It is best to save it in your "My Pictures" section on your computer's hard drive. Name it any file you want (but make sure you don't use any special characters.) Hope this helps! If you need further assistance, just post a reply to this. If you thought this was helpful, or just want to leave general feedback (or have a better suggestion), please do so!
3 responses

• United States
29 Apr 08
Thank you very much, that certainly is easy and I am sure many people will find it very useful. Windows Vista also has a "snipping tool" option under accessories. You select on the screen, snip, save and then open with paint. For easy access the snipping tool will be added to the bar at the bottom once you use it the first time. It doesn't look like either way is easier than the other. But I haven't done a whole lot either way to be a real good judge of ease of use.

• United States
29 Apr 08
I just did both way, and if one wants the entire screen in the shot, doing it your way saves a step or two. If one wants only part of the screen, then either way works the same...just the steps are in a different order. Thanks again! I know I have seen many people asking how do to it in the past.

• United States
30 Apr 08
Thanks for the tip for Windows Vista! :D I don't have Vista, so can't tell people what to do with that one...lol But, just curious: does my idea work on Vista, as well? The snipping tool sounds like a good new feature, though! Also, if anyone else has any ideas how to make screenshots on a Mac, let us know! Don't be shy! There may be some here who use a Mac. Again, I don't have one, so I can't tell ya what to do. :o)

• United States
30 Apr 08
I just realized how small this site made my picture proof. :o( Trust me, I made it HUUUUUGE!!! Pfffttt... Oh well. *sigh*


• Italy
29 Apr 08
Great explanation and just what I was looking for a month or so ago when I asked how to do this in order to show a proof of payment. I would like to add what I do next after I have saved the image on my computer. I then load it on to a site like www.photobucket.com/. I have created an album there and save all my proofs and it means I get a quick url/link to post in places where I cannot post the image. The link/url leads back to the image. There I can also get a html code to use on my blog too. Makes life simple for those computer novices like me Thanks for this discussion.

• Singapore
2 May 08
Hi there ihearttinytim! I really admire you for your e-learning here on creating a screen-shot of payment proof. I would have to say that I have gained a very good insight on this and certainly would want to use it in future use for other sorts of given programs. Thanks so much and have a nice day there. :)-

• United States
2 May 08
Thanks! I'm glad it was useful to you! :o)