Does Your Cat Sleep In His Own Bed?

United States
April 30, 2008 1:19pm CST
I bought my cat a cute little bed.It is a chaise lounge.With a leapord pattern on it. I have it in the living room.He does sleep in it sometimes but not too often. Do you have a special bed for your cat, and does he sleep in it?
4 responses

• Virgin Islands (U.S.)
1 May 08
I dont have a cat per say, but my grandson has one that he adores. He has a bed for her and it is sitting in the living area snuggled between two chairs; and there is where she sleeps comfortably.

• United States
1 May 08
Well that is great that he sleeps in his bed real good.

• Bahamas
30 Apr 08
No she doesn't. We bought her a bed but she never sleeps in it.She lounges in it and grooms herself in it but sleep is something i have yet to see her do in it.I'm afraid she has my bed confused with hers, but thats partly my fault i've never taught her any different.

• United States
1 May 08
I know what you mean, my cat loves my bed too, but I like him to sleep with me anyway. I wonder why they don't like these beds much..

•
30 Apr 08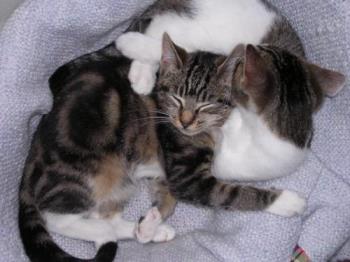 We have a little bed that they used to curl up together in as kittens, but now only one of them can fit in it at a time and Voodoo has claimed it as her own! She sleeps in in sometimes during the day, but both of them prefer my bed! They curl up on my legs at night and when it's hot it gets really uncomfortable, but I have trouble kicking the little loves off! I can't bring myself to wake a sleeping cat!

• United States
1 May 08
Mine too sleeps in it sometimes, but not much, he sleeps everywhere. but when I lay down he lays with me too.

• United States
30 Apr 08
Nope, and I didn't have to for two of my cats anyway. Columbus sleeps on my bed nearly all of the time, while Waffles sleeps on one of the leather dining room chairs until later on. Then she'll jump on the bed with me and Columbus. Mimi sleeps on the arm of the stinky couch while Maxi sleeps downstairs, though don't ask me where.

• United States
1 May 08
Well, I have this one because I really thought it was so cute, but mine too has so many places that he sleeps,at night he sleeps with me too.