Upgrade or Replace?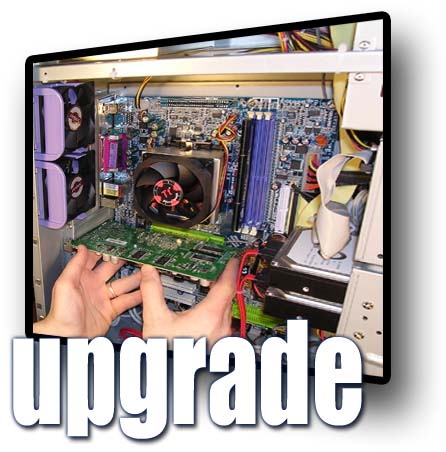 Philippines
8 responses

• Philippines
1 May 08
Since you jazzed up the premise with a tight budget condition and providing two choices to vacilate on, I'd probably be inclined to only upgrade a particular part of that two year old Computer that would improve its somewhat unsatisfying performance. Going for a total replacement of a computer, with a tight budget might lead you to buying another unsatisfying computer. But recently, there are more and more affordable computers in the market.. I guess it depends on what's available and considerable with the prices.


• Malaysia
2 May 08
Haha, really good discussion.

I would do this - sell off this old piece. I might not be satisfied but others would find it more than enough for their requirements - so it really depends on the "unsatisfied" part, haha

So it'll be saving just a little bit more, sell off current system & buy a new 1

Since I'm in this line it definitely has its advantages, haha!~

• Malaysia
2 May 08
Haha!~

I guess that's me - stretching every dollar to it's maximum worth, hahahaha. I'm actually eyeing a new 1 now, hehe. Oh, by the way, the computer casing I'm using now is my friend's old casing. His old mobo got burnt so he jus said "take the whole thing"...haha. My old casing doesn't have front USB ports, so like I said since I'm in this line, it definitely has it's advantages. Plus, it's an Enlight casing




• Romania
5 May 08
Go in Start/Run Type in ,, dxdiag '' and tell me the specs of your computer also tell me if it's AGP or PCI-E if the motherboars ia PCI-E i'd consider upgrading If the motherboard is AGP then i would go for a replacement, but since you are tight on the money I'd also suggest waiting a few months then buying one from what you saved. Also If you do buy one, don't buy it from anyone , build it yourself, or tell somebody to build it for you. If you have a budget that tell me what it is and I may help you

• United States
5 May 08
i would consider a replacement if this happens to me..the good thing about being here in the states is theres a lot of people who upgrades their computers and sell the one they have for a cheaper price like at http://lasvegas.craigslist.org/ all you gotta do is find the price you want and check the computer you want...if you dont want it then move on and check the others...its so easy and cheap to replace computers out here...

• Manchester, England
2 May 08
There is no definitive answer to this because it would depend on the upgradability of the current computer and how far ahead technology had moved. I always ensure that I have an upgradable system and extend the life by adding RAM,hard drive space etcetera. However, you do reach a point whereby buying or building a new system is the logical way to catch up again.


• India
1 May 08
It depends upon the type of application that i am going to use my computer for. most of the time, simply increasing RAM or changing processor can help. So with tight budget i will definitely go for the upgrade one. Even there are new Systems available with less price there will be better version of the components within few weeks so everytime one can not go n purchase a replacing the system.