Romance From The Heart And Soul...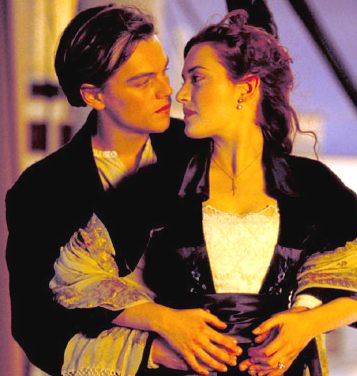 United States
May 2, 2008 10:36am CST
There are so many romance books and movies out there. I'm more into the movies than the books but I've seen hundreds and hundreds of the Harlequin Romance books around. My favorites are Titanic, Ghost and Dirty Dancing to name a few. In both Titanic and Dirty Dancing it's about a girl finding the love of her life in an unusual man. In Ghost it's about the never-ending love between a couple. These movies depict loving, decent ppl that love with their total heart and soul. You know that if they end up together at the end of the movie it will last for all eternity…sometimes even after death. In today's world relationships are not this easy. They take a lot of work and even with the best of intentions they sometimes still don't work out. I think that sometimes these movies raise our expectations of others so high that nothing compares. Some ppl search forever for that glowing, once in a lifetime love that often is like the pot of gold at the end of the rainbow. Are you happy with your relationship as it is or do you wish it were more like the ones in movies? Did you do a lot of searching to find the perfect mate or did you just settle with what came along? Do you think these movies and books tend to confuse ppl? What's your favorite romance movie? **AT PEACE WITHIN** ~~STAND STRONG IN YOUR BELIEFS~~
9 responses

• Canada
2 May 08
I think so people are caught up in all the hype of being in love and they expect a life changing experience and it never happens and they get disappointed. I know from a long time that being in love didn't always been the bells and whistles, but I have experienced true love and I am very happy for that. After awhile the feeling silly, giddy loves makes way for more mature love, and that is a beautiful feeling as well.

• China
3 May 08
I agree with you winterose. That's exactly how I feel now. Before, I have this kind of silly imagination of love. Now I can not say that all that imagination disappear totally, but I surely will not have that much expectation. True love is what I have been expecting for.

• United States
3 May 08
I haven't found the "One" yet. But I am not looking either. I don't read romance novels, I prefer Henry Miller. The most romantic film I have seen was Mayerling.

• China
3 May 08
I always enjoy watching Pride and Prejudice and then of course Becoming Janes. I just fell in love with this book the first time I read it. It's just so touching to me. Before, I did have some kind of imagination of romantic love. And then I realize that love is somehow a real thing. It can be romantic sometimes, but when it come to the reality, every romance can be just a bubble. But I still have some expectation of an romantic love. Hopefully, I can have one in the near future.

• Philippines
3 May 08
I guess romantic novels are not trying to confuse people to what is true romace. There is no formula for a perfect romantic gesture or moment. As to my belief for a lasting relationship , it goes with trust and acceptance towards each other.Trust and acceptance is the spark of Romance , the juice of love. The effort and sincerity that husband and wife puts into the moment that evokes the greatest binding tie. It is an action from the heart. Always let your wife and husband know how much you appreciate and love each other. You will never find a perfect mate coz what makes us human is our imperfection. Happiness is our greatest aim in a relationship.But , it is not something to be attained through self-gratification but through fidelity to a worthy romance. It lies within.

• United States
2 May 08
romance books are just not my cup of tea to me they are just junk food for the mind!sory

• Bahamas
2 May 08
Hi twoey. I must say i'm very happy with my relationship.I have something and someone that is real, he came into my life when i was not looking and has been here ever since.When i was younger i always wanted that storybook romance, but as i grew older i realized that life is not black and white. I dont feel as if i've settled, but that i have found something lasting.I think movies and books tend to confuse people because they put a surreal spin on love.And like you my favorite romance movie is ghost.

• United States
2 May 08
My favorite romance movie is A Walk in the Clouds with Keanu Reeves..I think what Paul Sutton (Keanu) did a very honorable thing when he at first was helping the girl through a scary situation and then fell in love with her..


• United States
2 May 08

My favorites are "Ghost" and "Dirty Dancing" among a very few others.. If I had a "true Love" other than my husband, it would be Patrick Swayze, is he wonderful.. I do believe that I could love him no matter what.. But since I couldn't get him, I did settle for my now husband and on the 6th of May this year, we will have been married for 40 years and that is after dating for 3 years.. He was my first love, and he was the lasing one.. Any good relationship takes plenty of work.. If we go to bed at night and neither of us are up for murder, then we have had a good day.. It isn't always easy and it takes a lot of hard work to keep it going but it is worth it.. Some days it is so easy to be married and doesn't take any work at all to be happy and content, but some days, you wonder "what have I gotten my self into"?? and this thought can pop into your mind years after you have gotten married.. It isn't easy, by no means, but well worth it, I wouldn't change it for the world.. Better get off of this post before he comes in here and starts reading over my shoulder.. Can't give him the "Big Head" that will make it that much harder to keep him in line.. Good Luck to all and have a great day..

• United States
2 May 08
Well, I can identify with these movies because I'm a white cuban lady and my husband is a handson filipino guy who I met at work. Everyone thought that I was crazy because we are so different ,but our romance has lasted until now. We cannot imagined life without the other one and our kids are always hoping to follow our steps. From my experience is possible to find your prince and is okay to search for the ideal man.