HELP! HELP!! MY PUPPIES KEEP CHEWING!!!!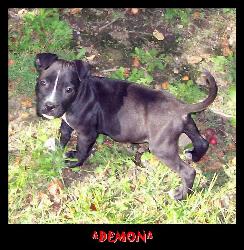 United States
November 1, 2006 12:06pm CST
I have 2 puppies a Saint Bernard and a Pitbull. They keep chewing on things like my walls and shoes and stuff like that. I know they r just puppies and need to chew but they have a lot of diff. toys, ham bones, pig ears, cow hoves etc. Does anyone know how I can get them to stop chewing stuff they shouldnt, like my wals for instance? Any help would be greatful!!:) Thanks!
5 responses

• United States
1 Nov 06
You have to catch them in the act & correct them for it & turn their attention to something that is appropriate to chew on. That's what I've been told by trainers. Try that & some of the spray that deters them from chewing on stuff for when you can't catch them.

• United States
1 Nov 06
Well see the thing with correcting them.... we do BUT they r always so scared. I think they think they will get hit or something. I dont know. I mean we have never hit them but we dont know about the people before us who had them. They wimoper and cry and run and hide from us. We are going to try a spray at our pet store. It is Best Behavior or something like that. I hope that works!!! :) Wish me luck!!

• United States
13 Nov 06
That's what we had to do with our Jack Rusell. She was chewing phone cords and electrical cords, she doesn't chew as much anymore, but I agree the spray deters for pet stores.


•
1 Nov 06
my puppy has started to chew things.My parents have had to fork out money because he has chewed mine and my sisters things. The other day he chewed my sisters new mascara! nothing is safe..he has just learnt how to jump onto sofas/beds.. now anything left on there isnt safe..we have to start locking him in a room at night just so he doesn't chew anything!

• United States
1 Nov 06
OMG! SOudns like my monsters! LOL Well they cant jump onto beds or anything yet so they r safe! LOL Good luck with ur pup!! :) Thanks for the response!

• United States
1 Nov 06
OMG - yes! I have a puppy who is a Saint Bernard cross and he is a hellion! Nothing is safe. He and the other two dogs have a collection of chew toys that rival Wal-Mart's stocked items. They do make a spray that deters the pup from gnawing on whatever you spray it on. There are many out there, but I used PetSmarts' NaturVet bitter yuck anti-chew spray. If the dogs keep chewing on wood (which the spray doesn't work on sometimes), then you can rub cinnamon oil on the furniture. That works wonders (my trianer recommended that). If it's not a light pine or unfinished oak, it shouldn't alter the finish at all, and as it's an oil, it won't evaporate as quickly. It also leaves your house smelling really nice. If you do have light colored furniture, you can dilute 2 tsps of cinnamon oil with 16 oz of water and 1 tsp of corn starch in a spray bottle. Shake well and spray on the area. The cornstarch and water will help dilute the oil enough not to stain. Be aware, it will make your wood look white until it is wiped off with a damp cloth. You can find cinnamon oil at Whole Foods and other similar places (I found mine at a baking specialty store). You shouldn't not use it if you are pregnant. Also, if you have sensitive skin, do not touch it directly as it can cause some burning. Your pups are just pups - I know how frustrating it can be when you are trying to break them from gnawing on your stuff. On top of teething, their heads are probably still growing a bit, and they chew to relieve the tension and pain. I hope you find a method that works! Take care. :)

• United States
1 Nov 06
Thanks! This will be a lot of help! VERY VERY good response!