Blooming Seeds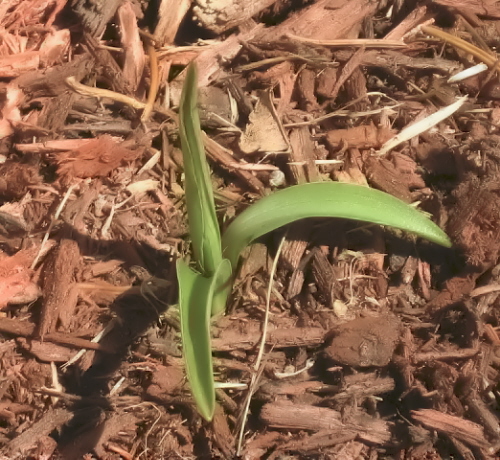 United States
May 4, 2008 3:22pm CST
I have a beautiful Orange Tiger Lily along side my house. The flowers also have black spots on them. This is the only Lily of all mine that seeds. The seeds form at the ends of the leaves along side the stem of the flower. well last spring I planted a lot of these seeds hoping for the best. I read up on how to go about this process. I can't recall the exact name for the process but anyhow I have results this spring. I planted about 15 or 20 along the edge of where I have my phloxx growing in front of my deck. This is a shot of one of the seedlings from about 7 or so that have sprout out from the ground. I do not think they'll flower the first year. But with the green thumb I seem to have who knopws huh? Have you ever transplanted seeds from lilies and grew your own new plants? Not off shoots but actual seeds. Do you know how a plant is determined wether to propduce seeds or not? I have around 75 or more Lilies total and the one plant is the only one that has seeded for me. HAPPY POSTINGS FROM GRANDPA BOB !!~
6 responses

• Canada
5 May 08
nope I do not know how to plant anything, I wish I could, you have given me the inspiration but I have a bad back and don't know if I could do it.

• United States
5 May 08
Taking care of a garden does entail a lot of physical actions which would include using the back as in bending down a lot etc. HAPPY POSTINGS FROM GRANDPA BOB !!~

• Garden Grove, California
4 May 08
nostalgia time when I read about Tiger lilie i remembered my mom and her garden of orange tiger lillies and how beautiful they always were. she too had the greenest of green thumbs and her plants always thrived too.she had a bunch of other lilies also but herfavorites were the Tigers She also had a peony patch and they had the biggest blooms I have ever seen but I was always disappointed in their scent. People had always told me how much they loved the scents of peonies but to me they had a sort of unpleasant odor. But all of her roses did have really gorgeous odors unlike so many of today's hybrids. She had one yellow rambler that had spread over a huge plot of ground and it smelled so good.but woe to anyone who got too close as it had the longest most' vicious thorns of any rose I have ever seen.one gouge from a thorn and you have instant pain.

• Garden Grove, California
17 May 08
thanks so much for best response I really appreciate it Grandpa Bob

• United States
4 May 08
So far no luck here havent seen any sprouting up but yippe my raspberries have spread and are popping up for me some new ones. Mabey Ill get some fruit this year.

• United States
5 May 08
Yeah I got your message on the phone. been trying to call and keep getting vopice mail also. Oh well. Hope ya get lots of rasberries too. HAPPY POSTIMNGS FROM DADDY!!~

• United States
9 May 08
You must know the number of chromosomes. If the parents do not have the same number of chromosomes then it will not produce viable seeds. That is why we can not breed with monkeys. Here is a project for you. Collect pollen from your tiger and try to inseminate a different lily. You can also collect pollen from the others to try to impregnate the tiger. Make sure you keep the flower from getting pollen from other plants if you are hybridizing. I don't have time for hybridizing but I have collected pollen from some of my Passifloras and hope to do it some day. I grew the Purple Haze Passiflora that is my avatar. Here is to growing.

• United States
7 May 08
That is pretty cool! I love it-- you don't even have to buy more flowers-- you can just plant the seeds. Nope- I've never done this- Every year I buy more and more flowers. I don't have the best luck with them- My favorite are my hyacinths and with all the bulbs I planted only 2 came up this Spring! Ugh... I have a lot of lillies as well. Happy flowering! it's my favorite time of year-- flowers ~ gardens :)

• United States
5 May 08
That's very interesting! I never realized that! My tiger lilies got weed whacked every year for about 15 years! As they were never given time to bloom (they came with the house!) and hubby was not convinced they weren't a weed! It's taken me years to get him away from the golf course type yard! (Yikes!) A golf course lawn only? Yikes! What a nightmare! He's given up now and rather likes my wild plant, flower,bushes and trees park like yard!