Magic the Gathering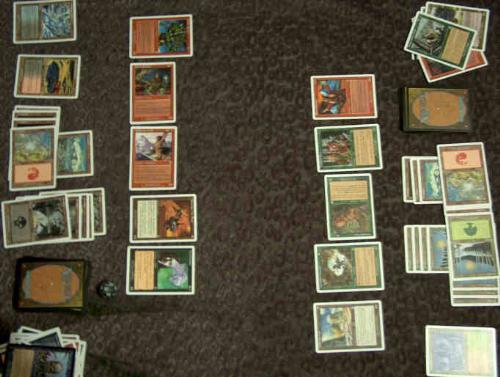 United States
May 4, 2008 3:27pm CST
Does anyone still play the actual card game Magic the Gathering?? My husband and I use to play it a long time ago. We still have a bunch of cards. We can't find anyone to play with anymore. He plays online now, but my cards are just sitting there in a box. Not sure what to do with them anymore.
3 responses

• United States
5 May 08
Tons of people still play them. My boyfriend also plays, but he has a whole group of his friends that play and there are several gaming stores in the area that hold local tournaments every week. Im not sure where you live, but check SCRYE magazine, in the back of the magazine there are lists of the stores that hold local tournaments(and just play for fun games as well). divided my date and state/city. You can get SCRYE at Barnes and Noble, Borders or online. If there are no places listed near you, I would consider selling your cards on Ebay, or selling your whole collection to a dealer and just playing the online game. That seems to be the way that the game is headed and having the cards may eventually become a detriment. If you are considering selling your cards,let me know and I will send you a few tips. My boyfriend and I spend about 2 hours a week scanning and listing cards to sell on Ebay so after a year, Ive gotten rather good at writing all of the stuff.(When we met I could have told you that Magic was a game with cards, but thats about it. :) ) Good luck whatever you choose.


• United States
8 May 08
My husband and I used to play, but we haven't played in a while. We actually just bought a big box of cards from a friend of ours. He was moving out of state, couldn't bring his stuff with him, and needed some extra cash. Now we have a pretty good collection of cards. Not many rare cards or anything, but enough to play a decent game of Magic. It is a really fun game.