First Night In a Big Bed!!!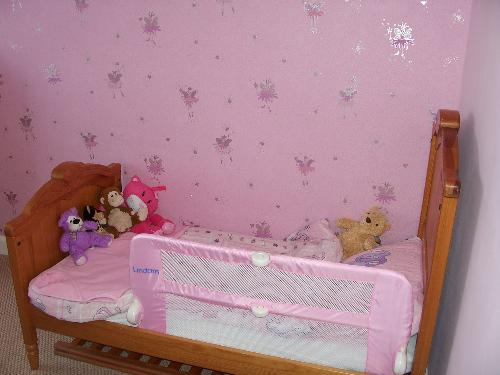 May 5, 2008 1:35pm CST
My daughter turned two over a month ago and has been getting increasingly mardy when put in her cot at night screaming and throwing all her stuff out stripping herself off etc!So today while their daddy was home he turned her cot into a bed and we got a bed guard and I made an old duvet fit her little cot bed one so she has a pink one (weve just decorated in there) She has to share with her big sister we have only got the two rooms so far she has spent the last 35 mins running around the bedroom and talking. But she isnt screaming so im not complaining as I know eventually when her big sister falls asleep she will get bored and copy. How was your childs first night in a big bed? Her big sister was fine but then she had only just started walking and has never been trouble at bedtime, Becca has been trouble from day one the cheeky little monkey!
5 responses

• United States
17 May 08
I have a almost 2 year old. She is the same way she use to be horrible to put to bed. She has to sleep in a crib for a long time because she would not go to sleep. And she would scream and scream no stop, no matter what you did to comfort her at bed time. I went out and bought her a big kid bed and dora sheets and a dora blanket. Now at bedtime I tell her it's time to visit with dora because dora gets lonely too. I wrap her up in her blanket and give her her baby and she kisses me and goes right to sleep. It's really all about establishing a routine and once you get the one that works for them mit gets sooo much easier.

• United States
5 May 08
Hello kezabelle! I have no kids and can't relate to you but I guess what you have done is great, like she can imitate to her elder sister and in a way, she will be less in active! LOL, is she the one in the picture? what a lovely kid!

•
5 May 08
Hello! Yup thats the little monkey in the picture they are asleep so its gone ok lets just hope she stays there!

• United States
15 May 08
My oldest daughter was in a toddler bed at 17 months and adjusted fine. My youngest was 19 months and she adjusted pretty good too. She just layed there for the first 3 nights looking around with a look on her face like "wow I have no crib rails!" lol. It was cute. But I know alot of people whos children have a hard time getting used to it. I hope it's all working out and she likes her new big girl bed.

•
15 May 08
Hi, thank you for your response, she has adjusted really well! Its like 8 days maybe more since the first night and she loves it. She sleeps like an angel she does play a bit before getting back in to bed and sleeping but thats ok. Although she stripped her nappy off the other night and wet herself lol but she had done that before in her cot little monkey

• Jamaica
5 Nov 09
Wow dont know if I should answer this one because I dont have any children but I will go on to say that she has reached a age when she want to mimic what the adults are doing around them .Consequently it was smart to realise that she would have wanted to have her own bed too.Hope she continues to behave like a good girl

• United States
28 Jun 08
My daughter started sleeping in her big girl bed around two years old. She got so tired of her crib that she would try to climb out. I had converted it to a toddler bed, but she was having no part of it. So, we put up the single size bed with a nice comforter and sheets for her. She loved it right away!