Have you got a rubber band ball?


May 6, 2008 2:28am CST
Just wondered who out there like me puts their rubber bands into a ball? (see pic of one similar to mine) I started one about 5 years ago now, but left it where I used to work so had to start a new one over! It's getting quite big now at least 12 cm across! I'm very protective over mine after losing the last one! I'll pick up rubber bands in the street to add to my collection! How many of you out there have a rubber band ball? how big is it?
5 responses

•
6 May 08
I used to have quite a big rubber band ball at work, when I was at Amex, but I don't seem to find a lot of use for elastic bands now, so don't have one. The bands I do use are in a plastic box.

Brightest Blessings, my friend. xx

•
6 May 08
I think mine will become a little redundant now that I've shut my office and moved it to my spare room. I don't intend to be working a huge amount in the coming months! Be a handy new plaything for the cats though! Thanks Blessed Be x

• United States
10 May 08
I've done that before! Isn't it fun?! lol You have something to do when you're bored - either add to it, or bounce it all over the place, plus, they don't get scattered about, causing you to have to search and search for one becasue it got trapped under something and you can't see it. Everyone where I worked thought I was nuts for making one, but then guess who would come begging for a freakin' rubber band when they couldn't find theirs? Yep. They came to me. I'll tell them to go long, and make 'em catch it. Then they'd have to throw it back...LOL

•
10 May 08
Yeah they are good fun and especially handy when you want to bounce them off someone's head hehe Thanks for your response!

• United States
6 May 08
No i do not have a rubber band ball, but when i was a kid my Dad had one..He use to save rubber bands all the time....His rubber band ball was about the size of a soft ball...

•
9 May 08
Wow that's quite a big rubber band ball! Thanks for participating!

• Singapore
6 May 08
I do not have a rubber ball.. but are you trying to break some record or something. Cause i remember seeing this old guy on "ripley`s believe it or not " and he has the largest rubber band ball..anyone great thing that you are doing.. hope it gets bigger

•
6 May 08
Nah I haven't the space or the time to do that, but they are good for bouncing off your colleagues head when they are annoying you (joke) I shall just see how big it gets. I did see the record breaking one and I think it may have been on the programme you mentioned!

• United States
19 Aug 10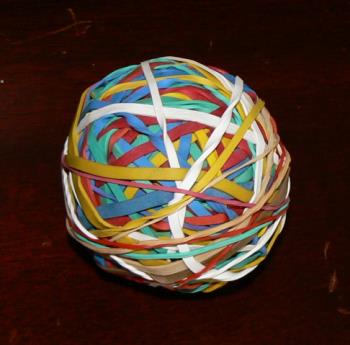 I wouldnt want to pick up rubber bands on the street yuck. I cant stand the thought of where it could have been. I dont have a rubber band ball myself but what got me looking for this discussion was I was going to post one about rubber band balls but see you have already started this one so I will have to comment on this instead of creating my own. My niece came over yesterday with a rubber band ball that her mother bought for her at the dollar general. I dont know how much it cost but it was kind of neat. I attached a picture of her rubber band ball. I gave her about 10 rubber bands from my collection to add to hers.