Do you Like Cuckoo Clocks?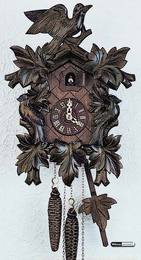 India
May 6, 2008 4:34am CST
I really like cuckoo clocks. I started liking it ever since i was a kid but i'm not yet able be own one. I was searching for Online shops which sell Cuckoo clocks and so far i have found clocks starting from $200 up to US$ 23950.00!!!!. $200 for a clock is a bit too much to pay for in India. But i dont mind paying that much for a clock to fulfill my childhood desire of having a Cuckoo clock. Do you like Cuckoo clocks too? Do you own one? If you know from were i can buy the best Cuckoo clocks at reasonable price online please share with me the website. Does any one know about the history of Cuckoo Clocks?
2 responses

• Philippines
6 May 08
yeah earn, as a matter of fact, i do. but here in our local stores, i don't see such kinds of clocks. rather, what is available are those cheap clocks that are battery operated. but i love those old clocks. my grandfather used to have one. it is not so big, but i loved t! :-) good day dear! :-)

• India
6 May 08
I heard the best clocks come from Germany so i would like to get one from germany, further they make it specially for you. Great value for money!

• India
1 Jun 08
hi, Cuckoo Clocks are cool. Having some bird knocking out after every 60 minutes is cool. And these days they are available in nice designs and features. I would like to go with the one which runs on solar power or something like that. I'm not much fond of such clock. But I would like to have one. Please post a photograph of your Cuckoo Clock for us. enjoy :)