When do you start Christmas shopping??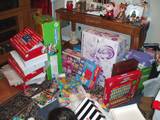 United States
May 6, 2008 7:42am CST
I know I know - its only May but when do you start shopping for Christmas? These days Christmas has become more of an expense then any thing. Do you wait till the last minute and buy every thing at once? Do you save all year for it or spend 1 or 2 paychecks at once? Or are you like me and shop ALL year long? I swear I start the day after Christmas. Buying all those after Christmas bargains to save for the year after. I am lucky enough to have a large walk in attic so I buy gift bags and as I buy things I wrap them and put them in who's ever bag they belong. By the end of the year there are TOO many presents. It helps becuase between my husbands family and mine there are a lot to buy for!
5 responses

• United States
6 May 08
Unfortunately I am a late (very late) starter. I don't know why, It's just the way I am made because I have a sister who starts early. I'm going to start giving out money to everyone and have them buy what they want. It's easier that way right?


• United States
7 May 08
You sound like my mother in law. Grrr she makes me mad! Last year from October till December 20th!!!! I was trying to get her to go Christmas shopping - FINALLY on December 20th she went with me. Not only did we have to fight the crowds she spent a TON of money becuase she couldn't find any good deals. I mean yeah there were things on sale but not like I had found. She didn't have time to shop around she just had to buy. Before we went I made her write a list of who she was buying for and what she was thinking of getting them. Once we were all done she said wow that was much easier having a list! Anyway she promisses to start early this year! I told her I won't go with her after Dec 1st again! lol

• United States
6 May 08
I usualy start around aguust sometimes september. I try to go in shifts so I don't spend so much at once and can get everything out of the way before the crowds rush in.

• United States
7 May 08
I agree 100%! I hate the crowds and don't like to spend all that money at once. Its hard to do when you have a budget and you have to alter it because of a holiday. I spend out of my every day "spending money" for holidays. I don't get to waste say 1 or 2 pay checks on just on a holiday I have to pay bills too. I don't understand the people that wait till the last minute haven't saved a dime then spend all there money on Christmas then complain that they don't have any money because of it. Well SAVE some or do a little at a time! - thanks I needed that vent! lol

• United States
6 May 08
I don't buy Christmas presents usually until after Thanksgiving. Sometimes I will buy something early if I find a great gift for a good price I have a hard time not giving the gift to the person if I have it though. With the economy slump and price of gas we might not have a great Christmas this year I don't knw if we can afford to buy gifts this year we will see what happens the rest of the year.

• United States
7 May 08
I try to forget about what I bought. After I buy some thing I write it on my list - wrap it and put it in there bag. I agree with the economy slump a lot of people aren't going to have a great Christmas BUT thats the joy of buying all year. You aren't spending a ton of money all at once. $5 or $10 here and there isn't as bad as $500 all at once. Every time I go shopping I check clearance racks to see what I can find. Last March I found packs of 12 wash cloths for 78 cents! I bought 6 packs. We don't spend a lot on adult gifts so I was able to give the adults a pack of the wash cloths and a tin of cookies. I ended up spending under $4 for each adult. And that was adult family I buy 1 thing for husband and wife I try to find a household item. Those wash clothes were originally $4.99 each pack so I think I did good.

• India
6 May 08
Hi!! It is better to buy stuffs just before Christmas,because preparing for a festival and going for shopping with the family or the friends is another relaxation and enjoyment, and it should comes before the festival.What do you think???

• United States
7 May 08
I disagree with you. I like to shop all year long. I like to have all my shopping done by Thanksgiving for a few reasons. The first is there are no Christmas crowds to deal with. Second you aren't spending a lot of money all at once. Third I seen many things threw the year that are great for people if I waited to buy them they may not be there.

• United States
6 May 08
I try to buy things through the year but do at times end up having to make the last minute dashes for gifts. I already have my gift for my granddaughter ( my daughter's dog) it is a cute coat that I know my daughter will love. I have a few things for stockings as well already.

• United States
6 May 08
I always end up having to get that last minute gift. My husband doesn't understand why and really I don't either. At the begining of the year I write my list and keep it in my purse. The if I buy some thing I write it next to the name of the person and how much it was. Becuase I am such a bargain shopper I have started writeing how much it was originaly. (I really want to see how much I saved)