Dog breeding

United States
May 6, 2008 6:25pm CST
What is your opinion on breeding dogs? Do you have a certain breed that you like more than others? If so, what is it, and why? Are you against breeding? If so, why? Personally I would only ever adopt an animal from a shelter and am 100% against breeding animals for any purpose. I know this is not the most popular opinion, but that's how I feel. I will leave it at that. I'm not looking for an argument, just other opinions and ideas.
9 responses

• Canada
7 May 08
I've been an Animal Breeder all my Life. As a teenager My dad gave me 2 purebred, unrelated cattle of opposite gender. These cattle were the for bearers of a herd that numbered more than a hundred. Presently, I raise honeybees for the production of Honey. I probably have more than 40 Million. (now that's a Lot of Breeding!) Honeybees are the Number One Pollinators of our food crops. A food plant that is "pollinated" is effectively "bred" or "fertilized". Without any "breeding", whether insect, plant, or animal, our world would be very short Lived!

• United States
7 May 08
I disagree with your last statement, unless I am misunderstanding. I meant in my original post to imply that humans breeding animals for any purpose is against my beliefs of what is right. Obviously, I am not referring to animals breeding on their own accord. Can you please explain to me what you mean by "Honeybees are the Number One Pollinators of our food crops"?

• Canada
7 May 08
Some plants are self fertilized. Grasses and corn are examples. Most fruits need help to distribute the male pollen to the female flower parts. Honey bees have evolved to do this "breeding" action called pollinating almost perfectly. There are a number of other pollinators, such as some types of flies, wasps, bumble bees, and hummingbirds. But as I said "Honeybees are the best es of the most es when it comes to Pollination!"

•
7 May 08
My dogs have had puppies and so I know first hand how difficult it is looking aftre so many puppies iin one go - Ironically most breeders don't really make money from breeding as after you have deducted all the money spent on looking after these pupies for 8 weeks before they can leave their mother the breeder has pretty much spent what he gets back. So as far as I know from people who did it all the time to 'breed' a particular type of dog it is done more for pleasure of looking after them and keeping the breed going. It is very hard work though and I cannot imagine doing it as a full time thing as some breeders will have numerous dogs they breed! I love having them around but once I've found loving homes for them all I'll be able to breath a big sigh of relief!!

• United States
7 May 08
Breeding dogs for the pleasure of looking after them is very selfish, in my opinion.

•
7 May 08
I presume this is part of the reason - Only thing is I just can't imagine how much as I really thought it was hard work even though the mum does do most of the work it is still a lot to do as well and of course you have them in your home for at least 8 weeks which I can only imagine is harder and harder the bigger the breed is!! Mine are jack russells and even them as small as they were took a lot of work!! On the other hand it's very rewarding knowing you have helped to breed dogs that start to be trained with you knowing you are letting them go to homes as dogs that people will appreciate and love and bring a happy companion to the family but it is still very much hard work and like I say I can never imagine wanting to do it as a full time thing that some people do!

• Australia
7 May 08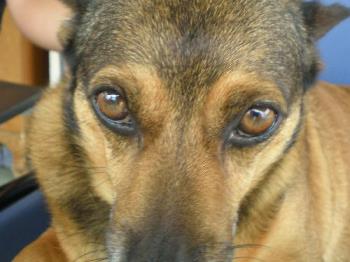 I agree that it's ridiculous that people are purposely breeding animals while there are thousands of animals in shelters that need homes. It's terrible really that people can bypass animals that desperately need homes just because they want a little 'designer dog' or a rare breed. My dog is from the RSPCA and I couldn't imagine having any other! My mother wanted to get an Australian Bulldog but i talked her into rescuing one from the shelter. We're so glad we did because Eddie is just the light of our lives!here is a pic of him.

• United States
7 May 08
That is exactly how I feel! He is a real cutie, too!

• United States
7 May 08
My opinions on dog breeding has changed, since I had my dalmation bred with another dalmation in hopes of making some extra money. Instead of having 6, she had 12. After I was able to sell some and gave away the rest. I learned that my mom was right, it was bad luck to sell puppies. So now that my dalmation was stolen, and I own a beagle and a mixed bred. I will never sell another dog again. I did pay for our beagle. We got her from a Beagle farm. The guy raises them for hunting, when he learned we were going to keep her as a house dog, he wanted to buy her back, at double what we paid. Ladybug is going on 10 and very spoiled. We got our mixed bred, Shiloh at a Walmart parking lot. A family was giving her and her siblings away for free. She's been with us for a year, and still learning not to run away. She's also learning fast that being spoiled as Martha Stewart says is a good thing.

• United States
7 May 08
I've had various dogs all my life. Over the last30 years I have had mini dachsunds. When I got my first one I briefly thought of breeding her with our next door neighbors dachsund. We were thinking of one breeding and then having her spayed. But I decided against it for a funny reason. I wanted my dog to have the fun dog personality not the "mother" personality. I dont have a problem with good breeders but sometimes they are hard to find. I would love the shelter dogs just as much. What bothers me is people who overbreed or dont pay attention so that their pets dont breed too much. People seem to want dogs in their family but many times they dont realize the needs of the dogs or other animals. Not every dog breed with fit with every home. If people would take more time and interest many there would not be so many animals in shelters begging for nice homes. All they want is a little love.

• Gold Coast, Australia
7 May 08
I believe breeding dogs should be left to the professional dog breeders - they know what they are doing. There is more to breeding than just mating two dogs, and it can end in disaster if you don't know what you're doing. My favourite dogs are poodles and shih-tzu's; I have 2 little shih-tzu dogs at the moment and they are a lovely, friendly dog, great personality and very loyal.


• Philippines
7 May 08
I believe that dog breeding is such a big responsibility, why would you like to breed, do you know enough about it, where will the puppies go and do you have the money for food and vet care. So I think it should be done with the best of intentions and not for money making. I'm not against breeding, I'm against irressponsible breeding. I would rather adopt from a shelter though than buy from petshops.

• United States
8 May 08
My heart is with the Labrador Retriever but I do like German Shepherds and Staffordshire Terriers. I'm totally against byb and anyone who is breeding just for the money (puppy mills). What I'm not against is ppl who devote their lives to one or 2 breeds. To improve the breed by breeding the dogs with the best qualities of those breeds. For if they didn't, there would be no decent breed anymore. Just cast-offs with lots of health problems. I have always received my dogs thru word of mouth and most times they are abuse cases. Lucky, the Husky/Shepherd mix came from a former neighbor who abused her behind closed doors mainly. She moved and found her dog acted even worse with us not around to get some relief from. We always told her if she wanted to get rid of her, we would take her in a heartbeat. Well, soon after she moved to her new place, Lucky went after a squirrel while her owner was holding her collar to put her on the trolly. She dragged her owner down a sidewalk and she got hurt pretty bad. She called me right way and told me to take her or she's having the dog put down. We took her alright and took several years of training and resocialization along with lots of love and patience to convert her to a happy-go-lucky dog she used to be. Domingo, a lab/pit mix came to us in almost the same way. His former owners either confined him to a crate inside or tied up to a 6' rope outside. He was beaten with newspapers, brooms, mops, anything and became very dangerous. My niece cried out to me to at least go meet him or they were having him put down. He ain't mean..just totally misunderstood and had no structure in his life. He does now and is the sweetest dog. My next dog will be a purebred Lab but will come from a Labrador rescue or the shelter IF noone ends up coming to us for help with another abused dog. Sorry for the rattling but I sometimes never know when to shut my trap.