Baby boy is growing

United States
May 7, 2008 8:30am CST
I told you all about the foal that was born almost 2 weeks ago. Lasy year his mother gave birth to a dead stud colt after being hit by a car that ran into our pasture driven by a drunk driver. It was the same day my sister died but this year we have this beautiful boy. He has a diamond on top of a diamond on his forehead so we named him Double Diamond Boy and we call him Diamond Boy. xoxoxoxoxoxo
9 responses



• Canada
7 May 08
that sounds so nice, I wish I lived in an area where there were horses, and I wish I had money to raise them. They are such beautiful animals. Enjoy diamond boy, he will be a blessing to you in the future, I can feel it.


• United States
7 May 08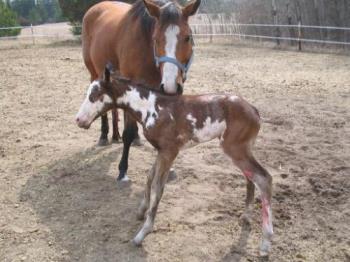 Oh he's gorgeous! What breed is he, QH? I had my first experience with a mare/foal two years ago. Was there when she was bred, took care of her every day while she was in foal and was there when she foaled. What an awesome experience! Here's Rio right after he hit the ground. Gorgeous little blue eyed bay/overo stud colt. It doesn't get any better than that!

• United States
11 May 08
He is simply adorable! I am positive he will grow up to be a stunning, healthy horse! Are you planning to keep him as a stud or geld him? He is very cute!

• United States
10 May 08
Nice looking little colt. You have a barn name for him yet?

• Philippines
9 May 08
Hi raydene! Wow, that is such a beautiful blessing to have dear. I think that diamond marking on his forehead looks magnificent. I sure want to see him and maybe if you have time, you can post a photo of Diamond Boy here. Congratulations! Just my thoughts. Take care and have a nice day!