Weirdest Place Your Cat Has Crawled into or ontop of.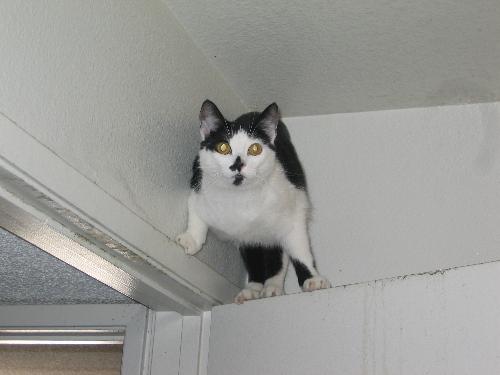 United States
May 7, 2008 9:19pm CST
My cats always amaze me. They can into and on top of the most amazing places. My Carlye's new weird spot is on top of the bathroom door. I didn't know she was capable of getting up there. Shows what I know. Where is the most unusual place you have found your cat?
4 responses

• United States
8 May 08
OMG--I used to have a cat that did the exact same thing..Meeko..would scare the heck out of me, since lets face it one isn't in the habit of looking up and he would decide to jump down just as I be going to the bathroom. My Kissy for some reason likes to open the bottom most cabinet...no matter how hard I close it she manages to open it and she loves to hop in..don't know why as the only thing in that cabinet is my cookware...unless she's trying to tell me something like, "Hey, mom it's time to cook something for me." hehe

• United States
8 May 08
Oh you made me laugh really loud here...oh yes, I remember the days I nearly wound up with a cat on my head too...hehe

• United States
8 May 08
one of my prior cats used to squeeze into a closed desk drawer.it had less than 1 inch open space on the back when closed.to this day i still have no clue how he did that. you'd open the drawer to get paper and he'd meow at you,it was hilarious ;)

• United States
8 May 08
My oldest cat likes to get into weird places. She is quite sure footed and has gotten on top of a pillar that is in the entry way to my library. And, when my hubby and I lived in our apartment, we had vertical blinds leading to our porch and she would get on the top of them and walk back and forth. All 3 of my cats will jump from the floor to the counter top, up on top of my fridge and from there, onto my soffet (sp) - the space between the top of the cupboards and the ceiling, but, the only one who can make it the 4 feet from the counter top to the soffet is my oldest cat. She has no fear of jumping and is darn good at it. She never misses. My youngest is really brave...probably the bravest cat I have ever had...but, she does this sort of test thing when she is getting ready to jump from the floor to the counter top. She sort of bounces on her haunches 3 or so times and then makes the leap. It is really funny to watch her. Especially since she is usually the tough one, so brave and sure of herself with no fears at all. Suddenly, the one thing she was born to do, she second, third, and sometimes fourth guesses herself. LOL!

• United States
8 May 08
cats are full of entertainment, I have four and my youngest thinks she needs to sit on top of the shower and watch me, I think she likes the fact I always get her wet then she sits there and cleans herself my cats are very clean and needy..lol