basketball

China
7 responses

• Philippines
10 May 08
Yes, that is right especially for boys but i prefer volleyball as my sport. Have a great day. Cheers!

• China
14 May 08
volleyball I don't know much about it,I usually know little about what I don't like much,can you introduce it to me?

• Philippines
19 May 08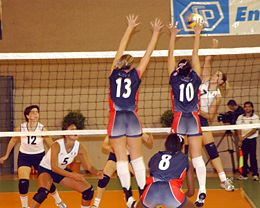 Volleyball is an Olympic team sport in which two teams of six active players, separated by a high net, each try to score points against one another by grounding a ball on the other team's court under organized rules.[1]

• United States
13 May 08