Geneology..Have you done any searching?

United States
May 12, 2008 8:24am CST
I have found some help from this site..You can find births deaths and some other info. Check it out http://www.ancestorhunt.com/ xoxoxoxoxoxoxo
7 responses

• Canada
13 May 08
Is this a place where you have to pay, because I find that most of those sites expect you to pay and I certainly have no money. I don't even know where to get the old documents as my grandfather came from england and we don't even know where in england or his exact date of birth.

• United States
12 May 08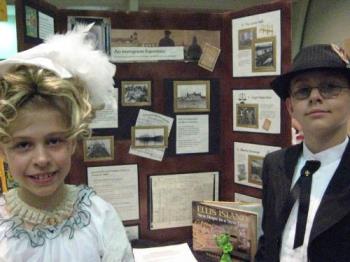 THe kids just finished some research using this and ellisisland.com to complete their social studies project. They won at their school and again at county level. I was really surpurized when they were asked to represent our county at the state level. Their project found that our family story of their great great grandpa stowing away on a ship was incorrect. They proved it wrong by finding the ships manifest. Then they did DVD, and project board to demonstrate what it was like to be an immigrant. Remember...you helped with some of the montage?Here is a pic of them at the state fair! They are dressed as immigrants. They won an honorable mention out of over 800 contestants!Hugs!

• United States
12 May 08
I have done quite a bit of research over the years, and have some family members who have spent quite a bit of time on it as well. I use Ancestry.com quite a bit as well as Familysearch.org and I use the free download software from Familysearch to document my research. The message boards on Ancestry.com and Genforum.com are a great place to find others that are researching the sae surnames.

• South Africa
13 May 08
never gave it a thought,i think i know enough people in my family tree than to look out for more

• United States
13 May 08
My FIL is heavy into genealogy...to the point of writing a book on the family history. He enjoys it so much and it keeps him busy. I have very little interest in it at all.


• Gold Coast, Australia
15 May 08
Unfortunately it's only for the United States, but I had a look at it, and it looks like an awesome site - lots of information and places to search. I'm sure it will help many people.